Indonesian police shoot dead a Papuan youth with mental disorder
August 11, 2013
This article contains distressing images but it is precisely because of incidents such as this that makes it crucial  for the world to know what is really happening in West Papua.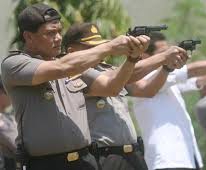 We are very sorry to report the murder of West Papuan youth, Irwan Wenda (27) who suffered from a mental nervous disorder, by 5 members of the Indonesian police in Wamena yesterday at 10:30.
Over 500,000 innocent West Papuan men, women and children have now been killed by the occupying Indonesian military, and leaked images like this are becoming more and more common, highlighting the reality of the daily terror that Papuans face.
The police opened fire on Irwan as they witnessed him experience a nervous breakdown despite the fact that many witnesses present to the shooting told the police several times not to shoot him because he often suffered such breakdowns due to a nervous disorder of the brain.
Without replying to those present, the police shot directly at his legs, abdomen, head and left hand, killing him.
Too add to such savagery, after shooting Mr. Wenda to death, the police officers then beat two witnesses without cause and arrested them by force and brought them to the police station.
Tiko Kogoya is the sister of the victim's mother. She expressed her grief at the death of her family member and said strongly "we ask the victim's family in court perpetrators should be prosecuted, and punished accordingly act honestly,"
Meanwhile, KNPB activist Ogram Wanimbo said, "The shooting that happened was a human rights abuse since police shot a mentally ill young man because of a nervous breakdown in the brain."
Even now, the family of Mr. Wenda is still in deep despair and his body has not been buried.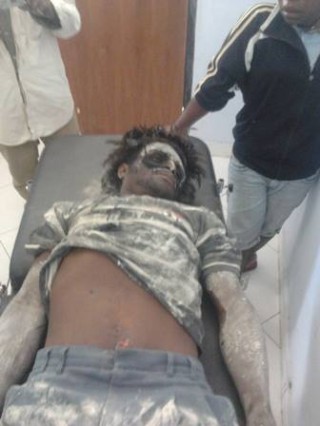 How can you help?
Please help to share this article and images throughout the internet and the world to let the world know what is really happening to the people of West Papua. You can share this article on facebook and twitter via the links on the right and at the bottom.
Atrocities such as this will only stop happening when the outside world begins to see the horror and oppression that all West Papuans, including children, have to face on a daily basis under Indonesian military rule.
Help to stop this 21st century genocide
Thank you very much
Rest in Peace, brother Irwan Wenda.