Surfers boycott of Indonesia draws debate
July 10, 2013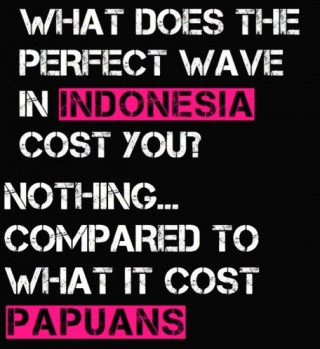 As the campaign grows, the West Papua struggle finds its way onto the agenda of surfers in Australia, posing questions about their frequent visits to Indonesia in search of waves.
Surfing campaign group Don't Go To Indo, has been set up by a UK surfer in a bid to encourage surfers to think twice before going to Indonesia, citing the ongoing genocide in West Papua and continued denial of basic rights to the indigenous people there.
Leading surfing website, SwellNet, has just run a feature on the Don't Go To Indo campaign including interviews with the founder of the campaign. There is already an interesting debate building up on their website here about whether surfers should visit West Papua.
Here at the Free West Papua Campaign we strongly support the work of Don't Go To Indo. Whilst we encourage people to visit West Papua and act as messengers for the Papuan people, we renew calls on  surfers and holiday makers alike to think twice about travelling to other parts of Indonesia. Don't fund the genocide in West Papua. Don't Go To Indo.