MSG makes positive statements for West Papua
June 29, 2013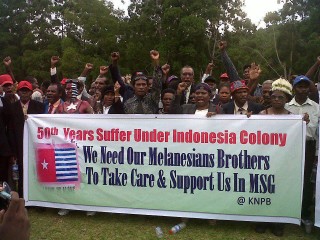 Following a strong campaign by the West Papuan National Coalition for Liberation and the government of Vanuatu for West Papua to be given member status in the Melanesian Spearhead Group (MSG), it was disappointing that this week's meeting postponed any such decision to the  future. However, we are very pleased to report that in its' resolution announced in the plenary session on 21st June the leaders of the MSG made two important decisions on West Papua,
[1]. MSG fully supports the inalienable rights of the people of West Papua towards self- determination as provided for under the preamble of the MSG constitution;
[2]. MSG stated its concerns about human rights violations and other forms of atrocities relating to the West Papuan people. It encouraged members to raise these concerns through their bilateral relations with Indonesia.
The first statement is the most important, and provides a strong basis for Melanesian nations to take the issue of West Papuan independence onwards to other forums, including hopefully the UN.
Peter Forau, Director General of the Melanesian Spearhead Group speaks below about the West Papua issue at the MSG where he clearly states that the human rights situation cannot be separated from the issue of West Papuan independence.