Three KNPB members released, chairman still in prison – Take action
May 21, 2013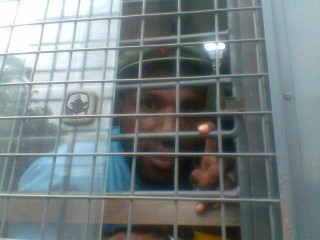 Following our urgent action campaign to release the KNPB members who were arrested on 13th May, we are pleased to inform you that Marten Manggaprouw, Yongky Ulimpa and Ely Kobak have been released. Sadly, the KNPB chairman Victor Yeimo remains in prison.
Please take action by texting (SMS) or phoning the Papua police chief and head of Jayapura police calling for his release.
We have a new phone number for the head of Jayapura police. We have spoken to him directly on this number and received a reply to text messages confirming that Victor is still being held in prison. We now need you to contact this number calling for Victor's release.
New number: Head of Jayapura police: +62852 4466 7949
Head of Police in Papua – Tito Karnavia: +62811161777
We recommend you send the following text (SMS) message:
"Bebaskan Victor Yeimo. Kami mengawasi dengan cermat apa yang Anda lakukan. Anda harus Menghormati hak asasi Manusia Internasional. "
Translation: "Free Victor Yeimo. We are watching closely what you are doing. You must respect international human rights."
Or just phone and say clearly "Free Victor Yeimo".