Courage is Contagious – Jennifer Robinson & Benny Wenda at TEDx Sydney
May 11, 2013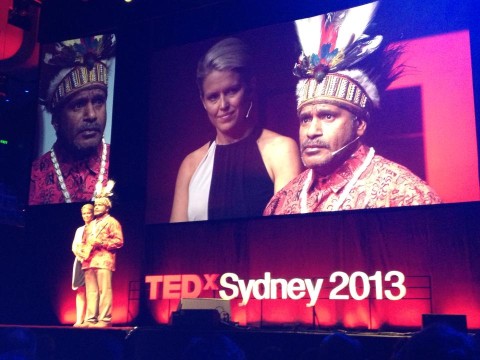 West Papuan independence leader Benny Wenda joined his legal advisor Jennifer Robinson on stage at the Sydney Opera House in Australia during her TEDx speech.
Jennifer Robinson is a human rights lawyer and Director of Legal Advocacy at Bertha Philanthropies in London, where she is creating a global program to inspire and support young lawyers into public interest law. She is a member of the legal team for WikiLeaks and Julian Assange, having acted for Assange in extradition proceedings, advised WikiLeaks during Cablegate and worked with the Centre for Constitutional Rights on United States v Bradley Manning. For more than a decade she has been involved in advocacy related to self-determination and human rights in West Papua.
Ten years ago Jennifer witnessed the sham trial in Jayapura where Benny Wenda faced 25 years in prison for a crime he did not commit.
Jennifer's moving speech detailed Benny's life and ongoing work to free his people in the face of attempts by the Indonesian Government to silence him.
Freedom and justice will come for West Papua. Merdeka!
Listen to this amazing, inspiring speech here: