Free West Papua Campaign office opens
April 28, 2013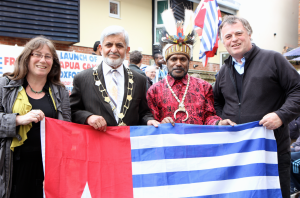 We are delighted to announce our new headquarters in Oxford, UK are now officially open.
The Lord Mayor of Oxford Mohammed Abbasi, local MP Andrew Smith and former mayor Elise Benjamin joined Benny Wenda for the opening earlier today.
The opening of the new office will allow us to grow our staff numbers more to meet the demands of the campaign as it evolves. We will work closely with those in our new office in Port Moresby, PNG on strategies towards the goal of self-determination for West Papua.
Speaking at the launch, Andrew Smith MP reaffirmed his commitment to continue developing the International Parliamentarians for West Papua (IPWP) that he co-chairs. The Lord Mayor of Oxford also gave a strong message of support before cutting the ribbon to mark the official opening.
Others in attendance included Paul Aiton, a rugby league player from the Papua New Guinea national side. Also, Jennifer Robinson and Charles Foster from International Lawyers for West Papua (ILWP), students from Oxford University, and supporters from across the UK, and Papuan exiles from the Netherlands who had travelled over for the opening.