Indonesia told: end the myth of 'no political prisoners'
April 29, 2013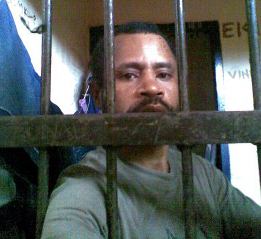 A new report by UK-based NGO, TAPOL, forcefully challenges the Indonesian government's repeated assertion that the country has 'no political prisoners.' The report urges President Susilo Bambang Yudhoyono to open up democratic space in West Papua and order the release of all those jailed for expressing their legitimate opinions and aspirations.
The 31-page report, 'No political prisoners? The suppression of political protest in West Papua,' documents the cases of 40 detainees who were known to be in prison at the end of March 2013, challenging the government's claim that there are no political prisoners in West Papua, but only criminals who have broken the law.
"Papua's political prisoners are not mythical characters – they are real men and women whose existence must be recognised," said Paul Barber, Coordinator of TAPOL. "If the government wants peace in West Papua, it should be talking to political leaders, not locking them up," he said.
The report is based on research and interviews conducted by TAPOL and data from papuansbehindbars.org, a new project initiated by civil society groups in West Papua and launched in the provincial capital, Jayapura, earlier this month. The report reveals that there were at least 210 political arrests in West Papua during 2012, but notes that the true number is likely to be higher as a number of arrests go unreported. At least 20 people were charged with treason under the controversial Article 106 of the Indonesian Criminal Code.
Throughout 2012, arbitrary arrest of political activists was often followed by other violations of human rights and international standards, including torture and ill-treatment, denial of the right to a fair trial, and lack of access to proper healthcare and medical treatment. TAPOL reports that torture or ill-treatment occurred in the case of at least 28 political arrests. At least four political activists were shot by police while allegedly resisting arrest – two of them fatally.
Behind the bare statistics are human stories of the hardships faced by prisoners and their families. One woman interviewed in the report described the effect on her children when she was jailed for peaceful political activity, saying "While I was in jail my kids were like street children." Mina (not her real name), the young wife of a political prisoner, told of the poverty, isolation and stigma she experienced while her husband was in jail, saying, "I got really sick with malaria and it was awful. I had to sell all my clothes and blankets, and when I was sick I had no money to buy medicine – it's very expensive here. When he was in prison nobody came here."
The publication of the report comes at a time when both national and international support for the release of Papuan political prisoners is growing exponentially, believes TAPOL. Grassroots campaigns in West Papua are generating increasing support from national and international civil society groups, and a number of states expressed concern about the situation during last year's Universal Periodic Review (UPR) of Indonesia at the UN Human Rights Council.
In just a few months, Indonesia's progress on civil and political rights will be in the spotlight, when the UN Human Rights Committee will consider Indonesia's first ever report on its obligations under the International Covenant on Civil and Political Rights. Given the growing weight of evidence on the detention, torture, ill-treatment and neglect of Papuan political prisoners, it will be difficult for the government to ignore them any longer.