Freedom Flotilla to sail to West Papua
March 16, 2013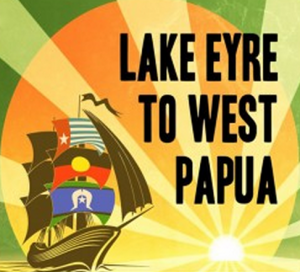 Later this year, a group of people will travel from Lake Eyre in South Australia – heading North before setting sail in a flotilla of boats for West Papua. The convoy will be led by Arabunna Aborigial elder Uncle Kevin Buzzacott and will include artists, musicians, activists and indigenous ambassadors from Australia and West Papua.
The travellers will carry with them water collected from the sacred mound springs of Arabunna country, and ashes from the fires of Lake Eyre and the Aboriginal Embassies across Australia.
The convoy will celebrate the 'old country' – a time when Australia and the land of West Papua and Papua New Guinea were joined and whose peoples still share a rich common history, culture and spiritual connection. A music festival on the shores of Lake Eyre will be held in July as a celebration of unity before the travellers embark on their epic adventure to raise awareness of the plight of the West Papua people and to show their solidarity.
You can follow this amazing initiative at http://freedomflotillawestpapua.org/