Two West Papuan people tortured to death by Indonesian prison guards
May 4, 2019
On 24th April, ten West Papuan people were brutally tortured by Indonesian prison guards for allegedly trying to escape Abepura prison.
25 year old Maikel Ilinmaton was killed on the day, while his friend Selyus Logo died from his injuries on 3rd May.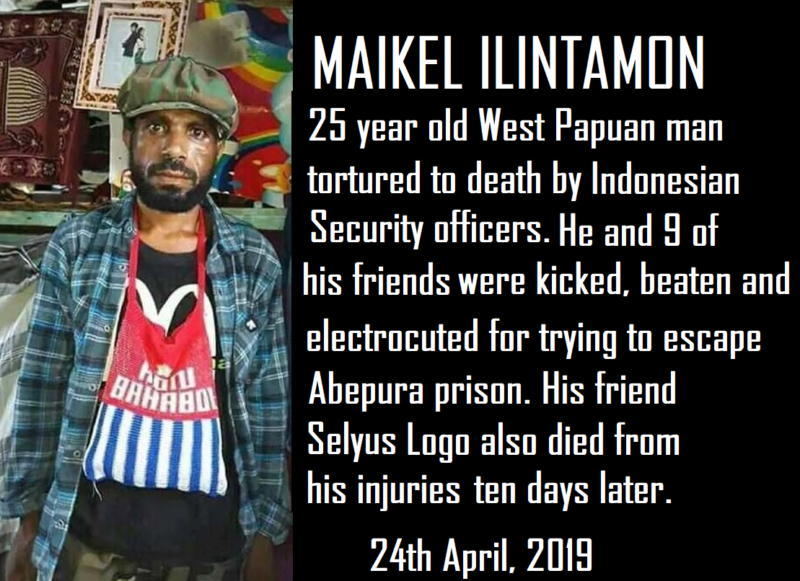 According to West Papuan media outlet Tabloid WANI, after trying to escape, the ten people were handcuffed by the security guards and were then each taken to individual 2 x 2 meter rooms which made it difficult for them to breathe and get fresh air. They were then kicked and beaten with sticks and wood and shocked with electric voltage.
Nine others were in critical condition. They were taken to the Bhayangkara hospital where Selyus Logo tragically died from his injuries on 3rd May. Tabloid WANI is reporting that the Abepura Prison authorities are tying to cover up the incident and may have paid local media to do the same.
Those responsible for the deaths of Maikel Ilinmaton and Selyus Logo and the torture of the other inmates must be prosecuted and there must be a full investigation into this appalling abuse of human rights.

The Free West Papua Campaign calls upon Amnesty International, Human Rights Watch and all human rights groups to help investigate and document this terrible case.

Rest in Peace Maikel Ilinmaton and Selyus Logo.