ULMWP gathers West Papuan people of Doberai in Manokwari show their support for petition
February 18, 2019
This article was originally published by the United Liberation Movement for West Papua (ULMWP) and can be read here.

On 14th February, the people of Manokwari in the Doberai region gathered to show their support and give thanks for the official submission of the West Papuan people's petition to the United Nations.

The historic petition, hand-signed by over 1.8 million West Papuans, representing over 70% of the indigenous population was delivered by ULMWP Chairman Benny Wenda to the UN High Commissioner for Human Rights,Michelle Bachelet on 24th January.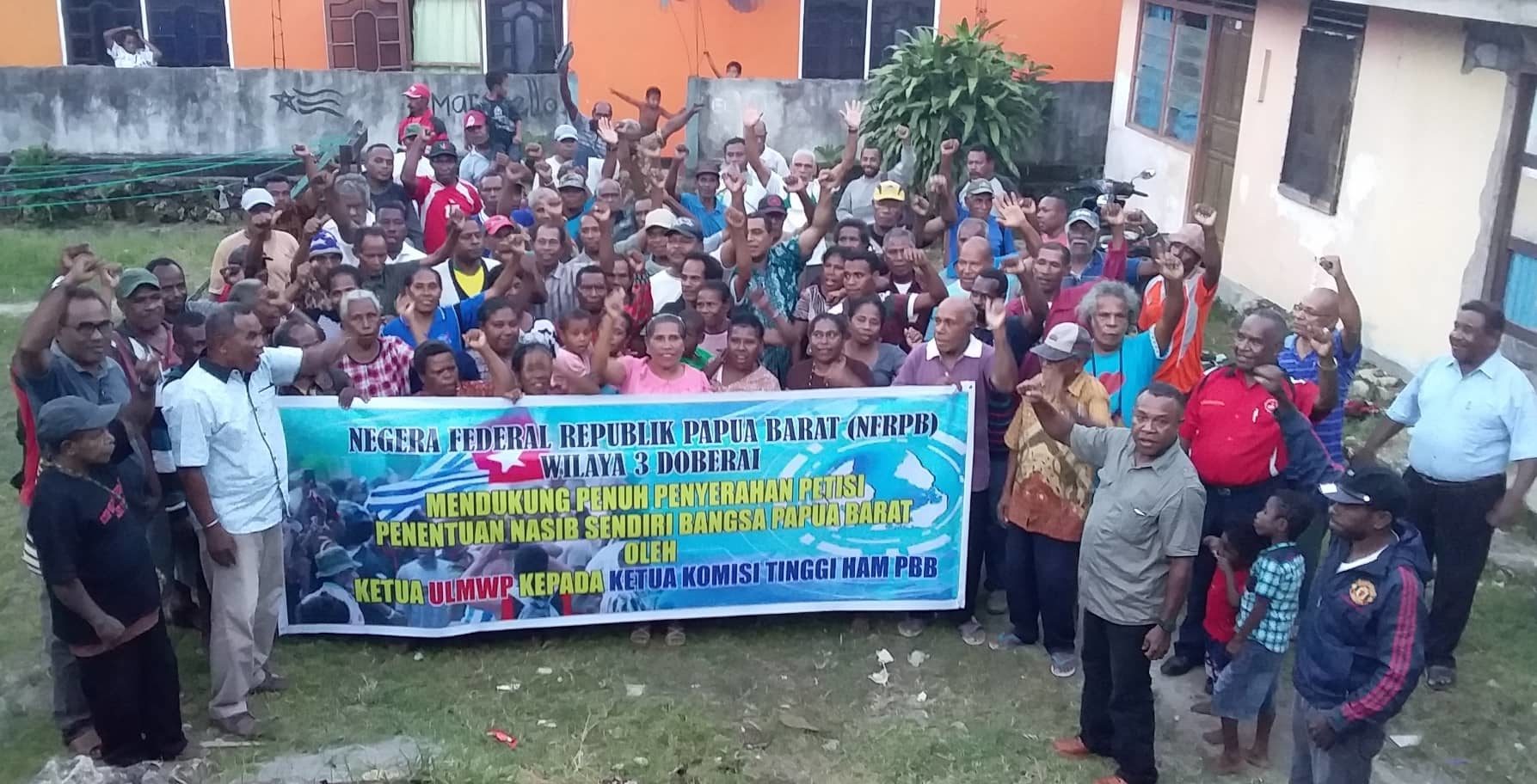 The West Papuan people of Manokwari held a large gathering in which they affirmed their support for the petition and the leadership of the ULMWP in successfully delivering it to the United Nations. The held aloft a banner which read: The Federal Republic of West Papua (NFRPB) in the Doberai Region fully supports the delivery of the petition for West Papuan self-determination by the Head of the ULMWP to the UN High Commissioner for Human Rights"
Markus Yenu, the Governor General of the Doberai Region, representing the Federated Republic of West Papua, stated, "I Markus Yenu, convey a message to all components of the struggle that have struggled for years from the 1960s to the present day….Let us all unite to support what has been conveyed, what has been done by the United Liberation Movement for West Papua, which through ULMWP Chairman Benny Wenda officially, submitted a petition of 1.8 million West Papuans to vote in a referendum to get independence. I as Governor invite all people, let us give our support and give our recognition for this."
He went on to say "As the Governor of the Doberai region in Manokwari, I express my gratitude to the Melanesian Spearhead Group, also to Pacific and especially to Vanuatu, which have given support to our people of West Papua who have suffered for so many years. And today we convey our thanks through worship and prayer today on February 14 in the Doberai region in ​​Manokwari."Share on Facebook