Indonesian police shoot, torture and arrest West Papuan students in Jayapura
August 31, 2018
This report was originally published by the Human Rights Organisation, the International Coalition for Papua (ICP) and can be read here.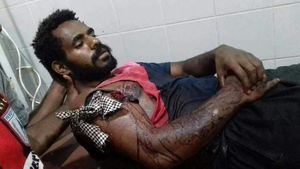 The International Coalition for Papua has received credible information in relation to the alleged torture and ill-treatment of two Papuan students on 27 August 2018 in the residential area of Perumnas 3 Waena, Jayapura. Yetron Kogoya sustained a bullet wound on the right shoulder (see intro image) as police officers opened fire at a group of Papuan students. He was brought to the Bhayangkara police hospital for medical treatment. Asmel Yigibalom was tortured by police officers during detention at the Perumnas 3 Police post, resulting in a bleeding head injury which needed to be stitched at the Abepura General Hospital. According to the information received, police officers from the Jayapura district police arrested at least 14 students from Lanny Jaya regency and temporarily detained them at the district police station in Jayapura.
The shooting occurred around midnight, after a group of students – all living in the Lanny Jaya student dormitory – had gathered at the police post in Permunas 3 residential area in Waena, where the alleged perpetrator of a motorcycle theft had seeked shelter from the mob. Prior to the incident unknown perpetrators had stopped a dormitory resident, threatened him with a machete and stole his motor cycle. Subsequently, a group of student from the dormitory searched the Perumnas 3 area, where they found the alleged perpetrators and chased after them.
When the police officers refused to surrender the alleged perpetrators, the students became angry and a heated argument between the police and the students began. The students claimed that police officers insulted them as 'pigs', 'dogs', and 'being stupid', so the group responded by throwing stones at the police post. Around 12.00 pm, the officers at the police post released two warning shots and reported the incident to the local police station, calling for back-up. During the argument the police officers arrested one student named Asmel Yigibalom and dragged him inside the police post, where the officers repeatedly struck Asmel's head. Fearing a further escalation, the students sat down near the police post and waited. Around 01.00 am, the students dispersed, as a police truck with fully armed members of the crowd control unit DALMAS arrived at the location.  Some of the students fled in the direction of the new University campus while other students escaped towards the Permuns 3 residential area.
During the escape, Yetron Kogoya was hit by a bullet in the right shoulder near the new university campus at Kamwolker river. The police officers arrested 14 students in multiple places. While Yetron Kogoya received medical treatment at the Bhayangkara Police Hospital, the other 13 students were taken into custody at the Jayapura district police station (POLRESTA Jayapura) for further interrogation. It is currently unknown whether the police will press charges against the students.
Table with names of students being arrested during the incident
Nr

Name

Additional information

1

Yetron Kogoya
Student of Lanny Jaya dormitory;

sustained bullet injury on the right shoulder and currently undergoing medical treatment at Bhayangkara Police Hospital

2

Asmel Yigibalom
Student of Lanny Jaya dormitory;

sustained bleeding head injury as a result of police torture at the Perumnas 3 Police Post;

was arrested at Abepura General Hospital during medical treatment as the wound was stitched

3

Nani Kotouki
Student of Lanny Jaya dormitory

4

Boka Wenda
Student of Lanny Jaya dormitory

5

Kalenus Wenda
Student of Lanny Jaya dormitory

6

Mell Wenda
Student of Lanny Jaya dormitory

7

Nerianus Kogoya
Student of Lanny Jaya dormitory

8

Agus Kossay
Student of Lanny Jaya dormitory

9

Habel Yigibalom
Student of Lanny Jaya dormitory

10

Alfreton Kogoya
Student of Lanny Jaya dormitory

11

Epris Yoman
Student of Lanny Jaya dormitory

12

Niles Kogoya
Student of Lanny Jaya dormitory

13

Rizki Yigibalom
Student of Lanny Jaya dormitory

14

Rendi Wenda
Student of Lanny Jaya dormitory