August 2nd – The value of public support for West Papua
August 5, 2018
August 2nd, 2018 was the 49th anniversary of the 'Act of Free Choice', which was the violation of international law that handed control of West Papua over to Indonesia  in 1969.
This year public actions were held across the globe in the Nederlands, London, Australia, the capital of Indonesia, and on the ground inside West Papua. The United Liberation Movement for West Papua (ULMWP). Komite Nasional Papua Barat KNPB, , Papuan Student Alliance (AMP), the Indonesian People's Front for West Papua(FRI-WP), and Free West Papua Campaign offices on four continents organised a record number of rallies in several cities globally and across Indonesia.
In response to the growing momentum of public action for West Papua's freedom, Indonesia's Security Minister and indicted war criminal, Wiranto, referred to protests by pro-independence groups as being separatist, "It's a small separatist movement but by methods such as this want to get world attention" he said from his Jakarta office this week.  Wiranto, a retired commander of the Indonesian Armed Forces, who is personally responsible for executing massacres in West Papua and East Timor, also referred to peaceful protests as "threats" and said the public action of Papuan pro-independence groups were just the "same old song."
West Papuans do not have time to wait. With each passing year their situation becomes more urgent. Since the Act of Free Choice, the Melanesian population of West Papua has declined from 99% to 47%, with half-a-million (546,126) men, women, and children shot, poisoned, exiled, starved, and disappeared. The Papuan population growth rate is now at an alarming 1.84%, while the Indonesian transmigrant rate is currently at 10.8% and climbing.
As a global campaign we frequently put out calls to action for independence supporters around the world to take a public stand to amplify the voices of West Papuans. Just last year 1.8 million indigenous West Papuans (70% of the Melanesian population in West Papua) risked their lives to secretly sign a petition calling on the United Nations to hold the internationally supervised vote on self-determination being denied to them since 1962.  Because foreign journalists and human rights NGOs are banned from West Papua, public support remains crucial to ensure Papuans are no longer isolated. International pressure and global awareness keep the Melanesian people of West Papua safe. Indonesian security forces can no longer outright massacre peaceful protesters under a shroud of secrecy as they did in Paniai, Biak, and many times over during their terrorist reign of East Timor. At the very least the Indonesian government knows their human rights violations only strengthens the case for independence and remain difficult to deny or justify in front of other world leaders.
Indonesia's government may downplay the impact of traction in support of West Papua's freedom, but the truth is they are well aware the world is watching, and go to great lengths to discredit the independence movement. As a result of increasing public engagement government officials like Wiranto can no longer continue to outright murder West Papuans with complete impunity. The world is watching and finding out about West Papua on a daily basis. As West Papuans see increasing evidence of worldwide support for their cause, the more their courage to demand their freedom grows. They now know they do not stand alone when they put themselves and their families at great risk to speaking out to tell their truth.
The global community collectively singing a forty nine year old song about the 'Act of Free Choice' will continue to do so until the people of West Papua can sing their own songs of freedom.
Free West Papua Campaign Nederland protest against the Act of Free Choice, in front of the Indonesian Embassy at the Hague August 2, 2018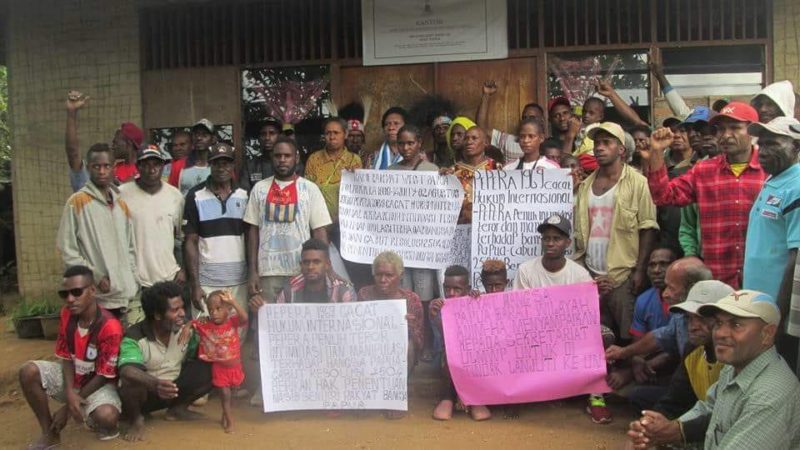 August 2nd, 2018. People in Merouke at the offices of the ULMWP reject the Act of free Choice, 1969.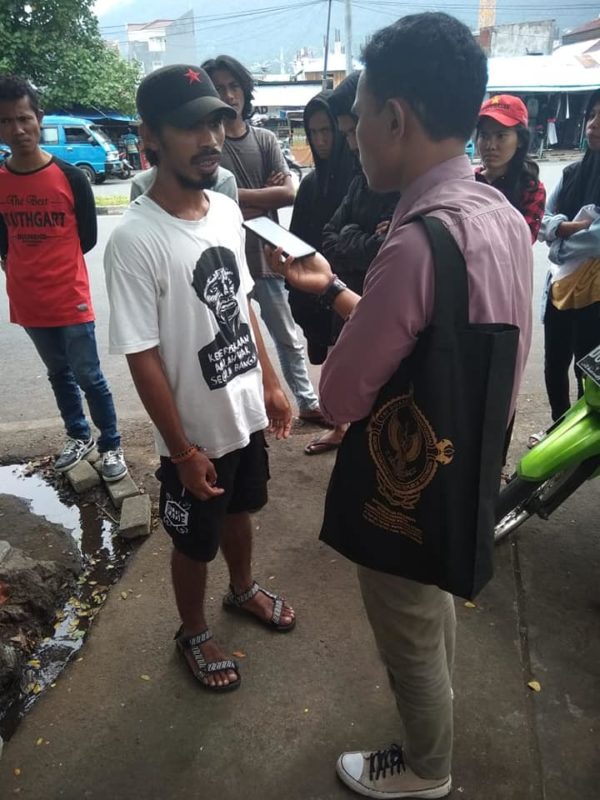 FRI West Papua (Indonesian Peoples Front for West Papua) member being interviwed about thheir action to reject the Act of free Choice beig disbanded by Indonesian intelligence officers on 2 August 2018 in front Barito market in Ternate City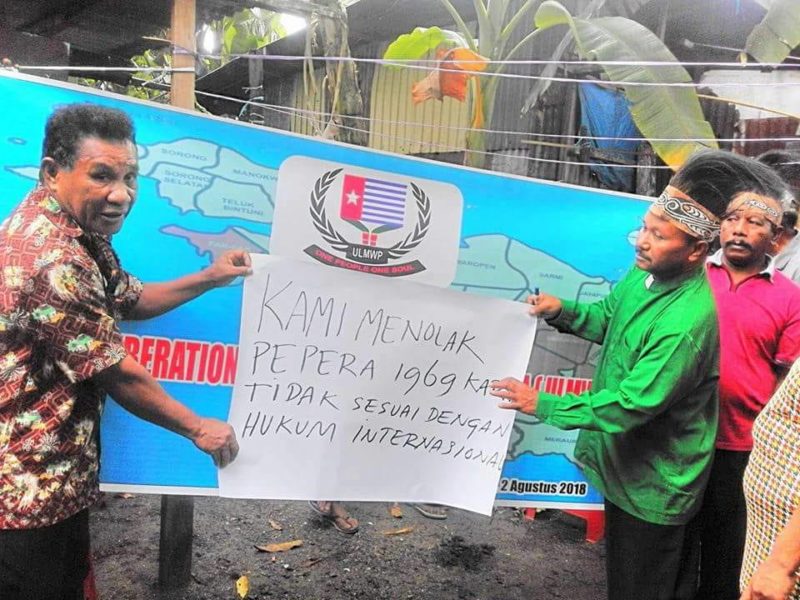 In Sorong West Papua, The United Liberation Movement for West Papua (ULMWP) Wiliayah Domberai displayed a rejection of PEPERA, Act of free Choice.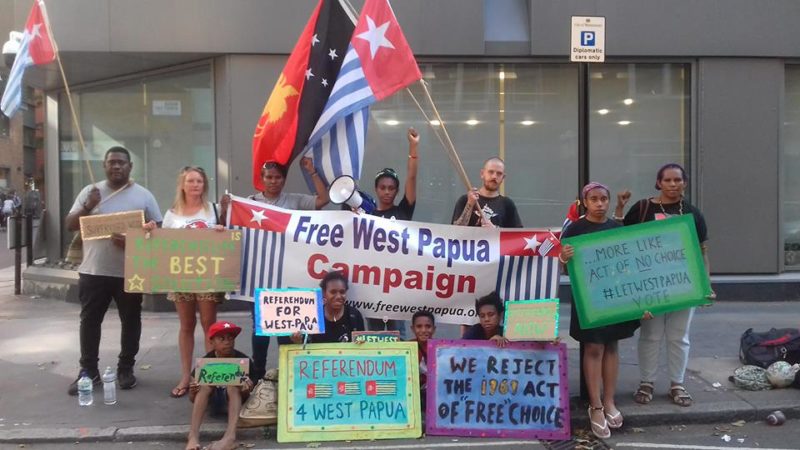 London, UK. August 2nd, 2018. Rejecting the Act of free Choice 1969 and calling for a free and fair referendum on independence in West Papua under international law.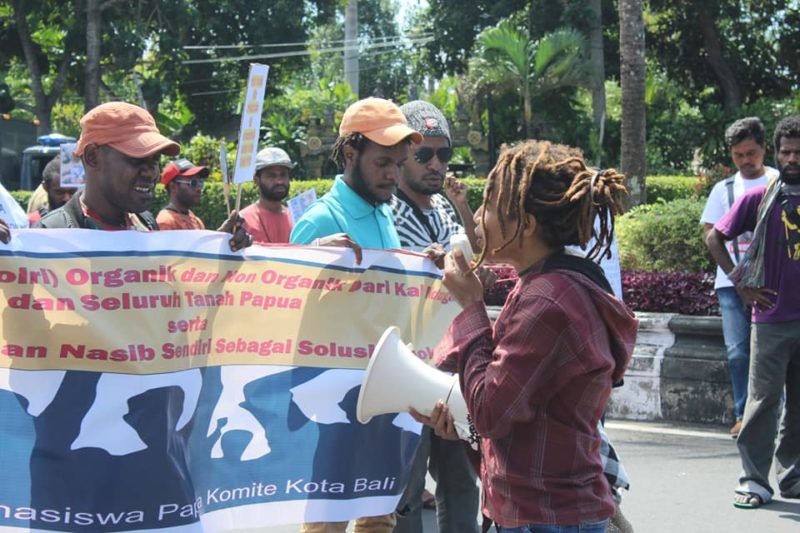 Student rally to reject the Act of Free Choice in Bali Indonesia on August 2, 2018