Rockin' for West Papua. Global peace concerts, October 2018.
May 21, 2018
THE FREE WEST PAPUA CAMPAIGN CALL TO ACTION FOR ROCKIN' FOR WEST PAPUA GLOBAL PEACE CONCERTS. OCTOBER 2018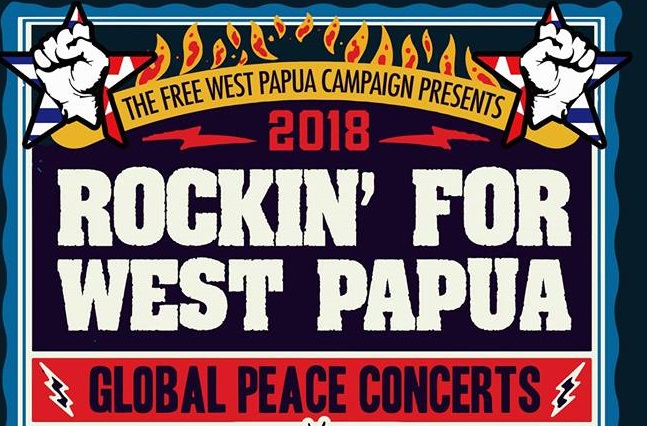 Sydney, Australia, 2018-
The
Free West Papua Campaign
invites artists musicians and promoters around the world to participate in this year's
'Rockin For West Papua' Global Peace Concert
being planned to take place in October 2018.
For the last two years, bands, promoters, venues, and human rights advocates have all joined forces to collectively use music as a weapon by
Rockin For West Papua
. Over the course of the same weekend more than 75 bands, in 33 cities, on 4 different continents have stood in solidarity with the people of West Papua to shine a light on the ongoing genocide and human rights abuses.
Australian coordinator for the Free West Papuan campaign Ash Brennan said: "Music has always been an inspiration to me as it has to people around the world, rich or poor. West Papuans use music to tell their stories, but it is illegal to play these songs in West Papua. The penalty is 15 years prison. I'm excited that musicians and artists from around the world are coming together for the third year running to stand with West Papua, to show music, art and human spirit can defeat tyranny."
Rockin for West Papua
has raised vital funds for the United Liberation Movement for West Papua, creating real hope for the oppressed peoples of West Papua. Including the funding of a ULMWP delegation trip to the United Nations in New York to deliver a petition for freedom signed by 1.8 million West Papuans.
2018 looks like being even bigger.
We are calling on all musicians, street artists, promoters, venues to be part of this years event. Contact Ash at R4WP HQ to be part of history.
"Indonesia has tanks and guns. We West Papuans only have guitars. Music is our weapon for Freedom." – Benny Wenda, Chairman of the United Liberation Movement for West Papua
Media Contacts:
Free West Papua Campaign
USA – Jewell Faamaligi jewell@freewestpapua.org