16 years on, still no justice after the assassination of Theys Eluay
November 10, 2017
Today we remember the great West Papuan Independence Leader Theys Eluay, who was assassinated by Indonesian Special Forces exactly 16 years ago on 10th November 2001.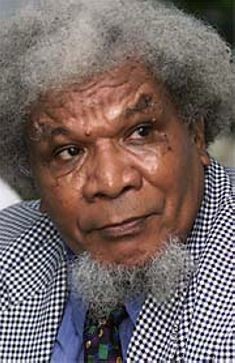 Theys emerged as the most prominent West Papuan leader of the "Papuan Spring" in the early 2000s and led his people increasingly towards independence. Under his leadership, the independence movement united and declared its resolute comittment to peacefully campaigning. On 10th November 2001, he was abducted by Indonesian Special Forces and strangled to death in a car.
After international pressure for justice, Indonesian General Hartomo was found directly responsible for They's murder and in 2003 was sentences sentenced to three years and six  months in jail. According to ETAN. "We don't know whether Hartomo served his jail time. We also do not know whether his sentence was overturned by a higher court. But we do know, based on evidence presented in court that the killing of Theys Eluay happened under his command." 
Last year, General Hartomo was promoted to the Governor of the Military Academy in Magelang, Central Java. 
At the time of Hartomo's 2003 conviction, Indonesian military General Ryamizard Ryacudu, who has since been made the new Indonesian Defense Minister, praised Theys' killers as "heroes", stating, "I don't know, people say they did wrong, they broke the law. What law? OK, we are a state based on the rule of law, so they have been punished. But for me, they are heroes because the person they killed was a rebel leader."
Rest in Peace Theys Eluay, we will never forget you but in your spirit, we will continue to struggle on until West Papua is finally free.