Global Attention Needed – The people of West Papua in danger on 19th December
December 18, 2016
This message has been released by West Papuan Independence Leader Benny Wenda ahead of rallies that are planned today on 19th December in West Papua, rejecting the Indonesian military's illegal invasion of West Papua exactly 55 years ago on 19th December and calling for West Papua's full membership of the Melanesian Spearhead Group (MSG).
Dear everyone,
I am writing this message as an urgent plea to the International Community to keep an eye on West Papua as my people prepare risk their lives today by peacefully demonstrating.
Exactly 55 years ago on 19th December, 1961, the Indonesian government launched "Operation TRIKORA", a military operation to invade West Papua just 19 days after we first raised our national flag on 1st December. This marked the beginning of decades of illegal Indonesian occupation and genocide in West Papua during which time over 500,000 West Papuan people have been killed.
To see what West Papuan people feel about this military operation today, please watch the video below

There are demonstrations planned across West Papua tomorrow to reject this illegal invasion and also, as Melanesians to show support for full membership of the United Liberation Movement for West Papua (ULMWP) to the Melanesian Spearhead Group (MSG). A meeting of the MSG is being held this month in Port Vila, Vanuatu to discuss ULMWP's full membership which will be a matter of much historical importance for West Papua as it will mark the first full recognition of West Papua as an integral part of the Melanesian family.
Already there are reports that up to 30 West Papuan people have been arrested in Wamena and 7 others in Nabire simply for preparing to peacefully demonstrate tomorrow. We desperately need international attention on the increasingly desperate situation in West Papua where this year alone over 4800 people have been unlawfully arrested and many others killed and tortured by the Indonesian military and police.
If there are free human rights in West Papua, why do the Indonesian authorities continue to arrest, intimidate and harass people for peacefully demonstrating? The Indonesian government is trying to hide these real crimes in West Papua and I hope that the Melanesian Spearhead Group and the International Community will urgently look towards West Papua and see what is really going on.
Please stay alert and monitor the increasingly dangerous situation in West Papua. We desperately need the urgent support and attention of the International Community.
Please stand up for someone's rights today.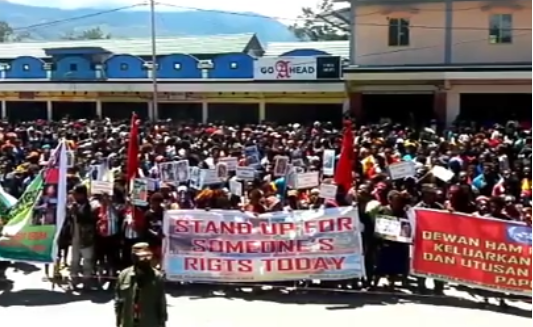 Benny Wenda
West Papuan Independence Leader
Spokesperson for the United Liberation Movement for West Papua (ULMWP)