More than 700 West Papuan people persecuted – Human Rights abuses in West Papua have increased under Jokowi
December 18, 2015
In the one year that Indonesian President Joko Widodo has been in office, human rights violations in West Papua have increased and even the National Human Rights Commission has stated that in this year more than 700 West Papuans have been persecuted through being arrested, beaten, and tortured. As recently as 1st December, 8 West Papuans were shot and 4 more killed by the Indonesian military and police in Yapen.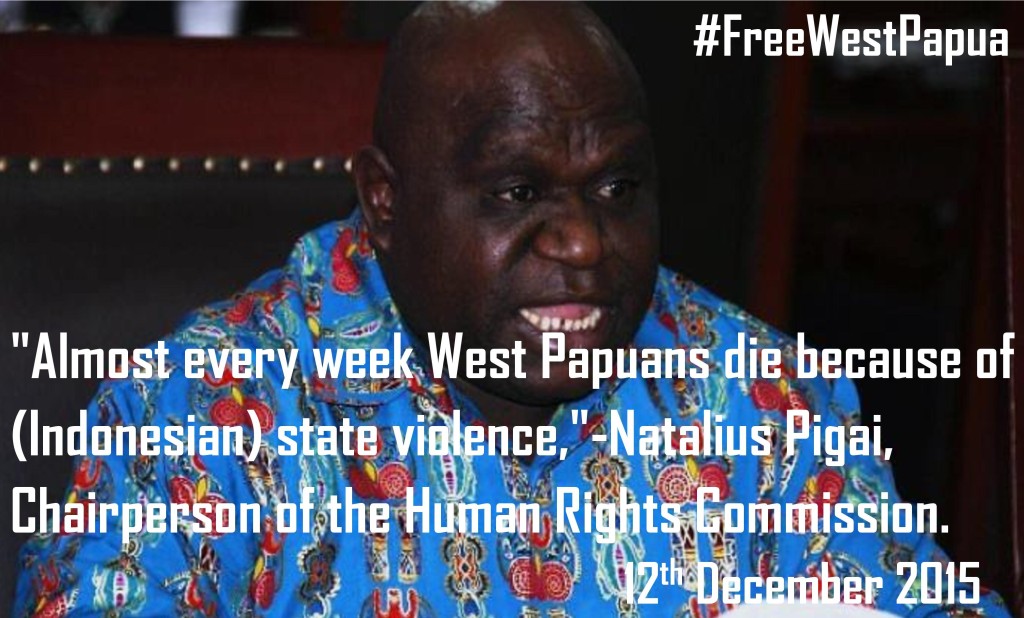 The Chairman of the Human Rights Commission, Natalius Pigai says Indonesian President Joko Widodo has not been able to address human rights violations that occurred in West Papua during the years of his leadership.
"Almost every week Papuans die because of state violence," said Natalius.
Solidarity with Victims of Human Rights Violations in Papua (SKP-HAM Papua) has also stated that the Indonesian President Joko Widodo's term in office, has "increased the wounds of the Papuan people".
In an end of year statement, they released this table documenting the list of incidents they found where West Papuans who have been killed and attacked by the Indonesian Security Forces.
No
Date
Case
Victim
1
1 December 2015
Shooting case against residents in Serui
1 person died (shot)

1 person critical in the Hospital and

2 people have not been identified

2
08 October 2015
The dispersion of SKP-HAM Papua in front of Abe Post Office
18 people arrested
3
09 October 2015
Arbitrary arrests of KNPB Activists in Sentani
3 people arrested
4
28 September 2015
Mimika Shooting Case
–       1 person died

–       2 people heavily wounded

5
28 August 2015
Mimika Shooting Case
–       1 person died

–       4 people heavily wounded

6
17 July 2015
Tolikara Shooting Case
–       1 person died

–       11 people heavily wounded

7
25 June 2015
Dogiyai Shooting Case
–       1 person died

–       1 person heavily wounded

8
22 June 2015
Arbitrary Arrests of FIM Students in Jayapura
14 people arrested
9
28 May 2015
Arbitrary Arrests of KNPB Members in Jayapura
47 people arrested
10
21 May 2015
Arbitrary arrests of KNPB Activists in Biak
25 people arrested
12
20 May 2015
Arbitrary arrests of KNPB Activists in
2 people arrested
13
30 April – 01 M May 2015
Arbitrary arrests of Pro-Democracy Activists
178 people arrested
14
14 April 2015
The Arrest Of The Delegates Of The Committee Of Independent Papua
4 people arrested
15
08 March 2015
Shooting and Arbitrary Arrests in Yahukimo
–       1 person died

–       5 people heavily wounded

–       11 people arrested

16
08 December 2014
Bloody Paniai Case
–       5 people died

–       17 people heavily wounded

17
19 November 2014
Arbitrary arrests of KNPB Activists in Nabire
8 people arrested
All this is yet more evidence of the worsening human rights situation in occupied West Papua and the ongoing genocide which is it estimated has left over 500,000 West Papuan people dead. Every year, there are more human rights violations, more people  killed just for peacefully expressing their desires for self-determination and freedom.
Ever since West Papua was illegally occupied by Indonesia by the so called "Act of Free Choice", West Papuans have endured the most severe human rights violations and even today have their basic rights, including the right to self-determination denied.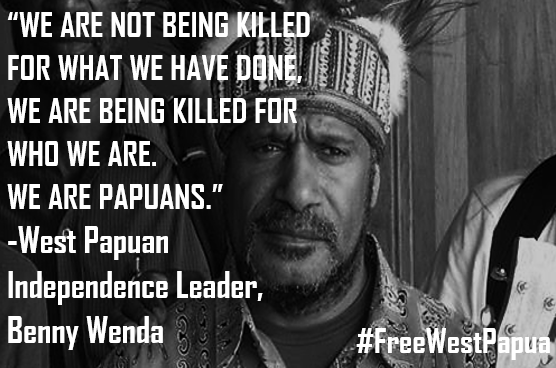 The Free West Papua Campaign joins others around the world in calling for a Human Rights Fact Finding Mission to be sent to West Papua as agreed in the recent Pacific Islands Forum Leaders Meeting. We also join others including Archbishop Desmond Tutu in calling for a United Nation review into the so called "Act of Free Choice" which involved just over 1000 West Papuan "representatives" being hand picked and forced to vote for integration with Indonesia.
Rest in Peace all those who were killed by the Indonesian security forces in West Papua this year. We will continue to Campaign until West Papua is finally free at last.
To find out how you can Take Action against the secret genocide in occupied West Papua, please click on the link below