1 year on, still no justice for Paniai massacre victims
December 10, 2015
2 days ago, West Papuans mourned the Anniversary of the Paniai Massacre, remembering 8th December 2014 when 5 West Papuan children, were shot dead and 17 others injured by the Indonesian military.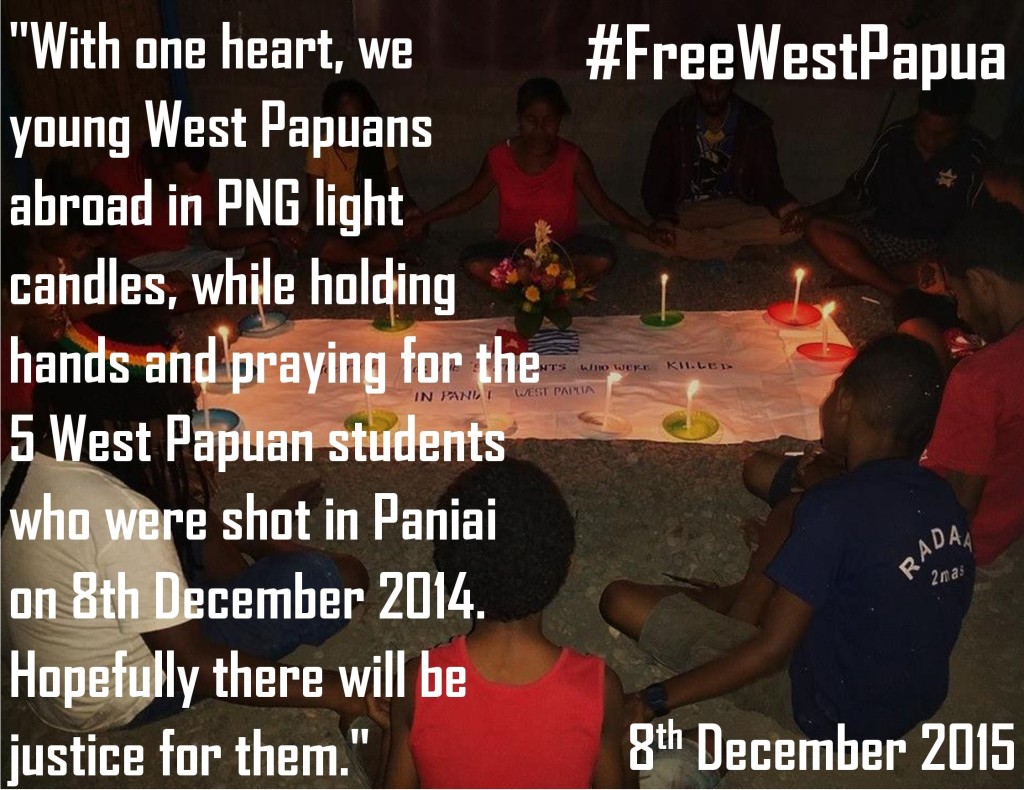 A West Papuan who took part in this Mourning ceremony said "With one heart, we young West Papuans abroad in PNG light candles, hold hands and pray for the 5 Papuan students who were shot in Paniai on 8th December 2014. Hopefully there will be justice for them." 
There has been still no justice after the cold blooded murder of these 5 children who were killed mercilessly with 17 others injured when the Indonesian military opened fire on a peaceful demonstration.
To find out more about the Paniai Massacre, please watch this video made by Minority Rights Group International
Please note, some people may find this footage distressing 

The Free West Papua Campaign continues to stand with Minority Rights Group International, Amnesty International and others in demanding that a full and thorough investigation be held into the massacre and that full justice be carried delivered. We demand an end to all human rights violations in West Papua and a withdrawal of the Indonesian military.
We ask people everywhere to please continue spreading the message about the secret genocide and illegal occupation of West Papua and not let the terrible massacre  of West Papuans continue. We continue to call upon Pacific Island leaders to help facilitate a high level Pacific Islands Forum Fact Finding Mission to West Papua, to research and help to uncover the human rights violations against Pacific Islanders in the region.
Please visit the Take Action part of our website to find you how you can help more.
Rest in peace, all those who died in the Paniai massacre. We will continue to campaign until West Papua is one day finally free at last.
Stop the Genocide! Free West Papua!