Thank you letter to all supporters after the Global Flag Raising for West Papua
December 7, 2015
Following the huge success of the Global Flag Raising for West Papua, West Papuan Independence Leader Benny Wenda has written this thank you letter to all supporters who took part and who continue support West Papua's freedom.
You can also read his Letter thanking Oxford City Council for their support here. 
Dear all supporters,
On behalf of my people I would like to thank you all for all the outstanding support shown for West Papua's freedom during the Global Flag Raising on 1st December 2015; West Papua's National Day.
The Free West Papua Campaign received over 200 photos from over 30 countries around the world; all of people raising the West Papuan flag in solidarity with the freedom struggle!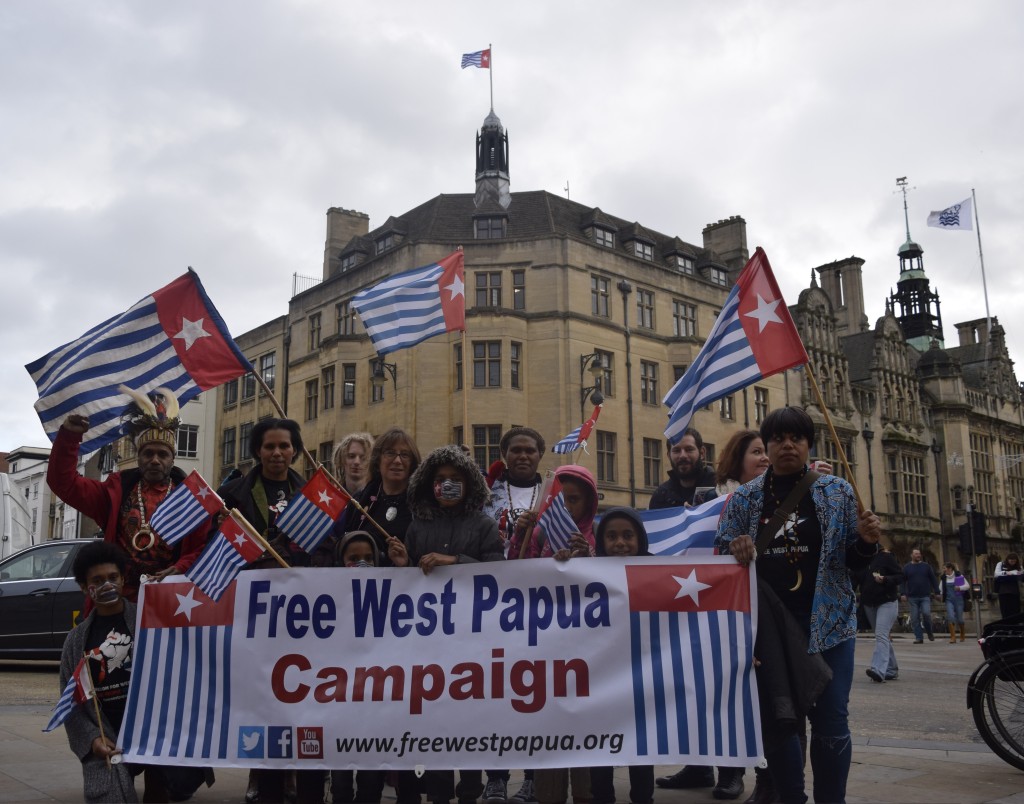 From the tropical beaches of the Solomon Islands, to the winter streets of New York City; from sun soaked country lands in Australia, to high rise buildings in Canada; the West Papuan flag was raised everywhere!
Everyone who as raised the West Papuan flag and participated in this Global Day can be truly proud of themselves. We as human beings really are making history as we continue to spread the message around the world and begin to make West Papua a household name.
Suffering under the continued genocide and illegal Indonesian occupation of our country, we West Papuans do not have the freedom to raise our national flag and can face 15 years in jail just for doing so. In fact on 1st December just for commemorating our national day; 2 West Papuan people in Serui were killed and 7 were shot by the Indonesian military and there was widespread arrests and intimidation in other parts of West Papua. In Jakarta, over 300 West Papuan students were arrested for peacefully demonstrating and many were beaten, tear gassed and shot with rubber bullets by the Indonesian police. A West Papuan journalist and 2 foreign journalists from ABC and Al Jazeera were also beaten by the police who forced them to delete their footage.
We West Papuans have no freedom at all. We are treated as subhuman and our voice has been silenced by the Indonesian government for so long that just a few years ago it was almost unheard of for any West Papuan flag at all to be raised in a foreign country. But now the world is waking up to the cries of the West Papuan people. The West Papuan flag is being flown around the world hundreds of times and this means so much to us as West Papuans who do not have the freedom to raise it in our own country.
We are all so very grateful for the tremendous amount of support and awareness raised for West Papua's freedom on this historic day. On the Free West Papua Campaign Facebook Page alone, the Free West Papua message reached about 2 million people in the days following the Global Flag Raising. I am also very encouraged to see so many people joining and forming Free West Papua solidarity groups around the world and I feel that this Global Flag Raising is an important way of helping to bring Free West Papua supporters together into groups dedicated to raising awareness for West Papua's freedom through self-determination. Yesterday the Free West Papua Campaign celebrated its 10th Anniversary and looking back I can see so much incredible progress in the last 10 years; from being a small group of friends to being a global movement, now with worldwide influence and hundreds of thousands of supporters for the freedom and Independence of West Papua.
Therefore on behalf of my people I would like to once again give you my full thanks and my full encouragement for all the true solidarity and compassion you show my people.
Please do continue to spread the message, write to your representatives and parliamentarians, bring people together and keep up all the fantastic support for West Papua's freedom.
The Morning Star of West Papua is truly rising around the world.
One day, we are sure that it will rise in a Free West Papua!
Benny Wenda
West Papuan Independence Leader
Spokesperson for the United Liberation Movement for West Papua (ULMWP)
www.bennywenda.org
www.freewestpapua.org