Free West Papua Campaign launched in Poland
August 14, 2015
We are very pleased to report that a new branch of the Free West Papua Campaign has opened in Poland!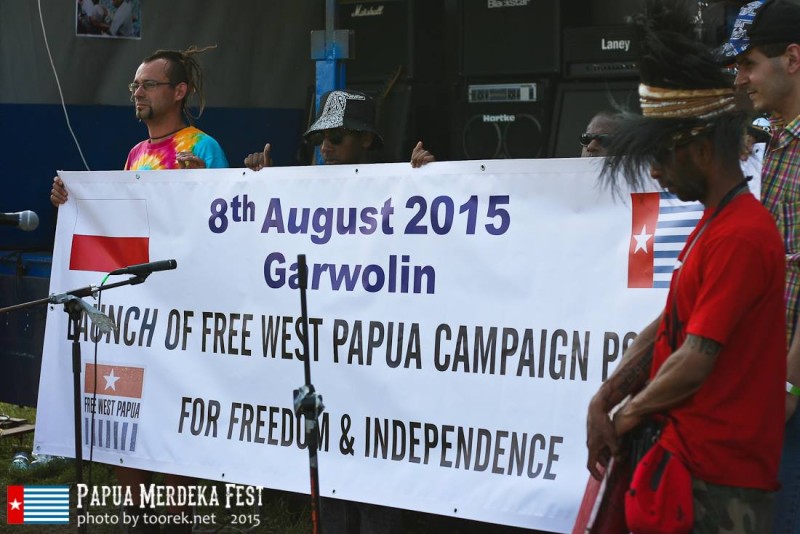 The new branch was launched with members of Free West Papua Campaign Netherlands and is  located in Garwolin, (near Warsaw) Poland.
The launch took place on August 8th during Garwolin's second solidarity concert for West Papua, "Papua Merdeka fest II ".
Several bands performed and together with ex members of Mambesak (a West Papuan band and dance group) to make a stand against the illegal Indonesian occupation and the gross human rights violations that take place in West Papua. We are therefore very pleased that we have created more awareness and support from the cause from Poland which marks the third Free West Papua Campaign chapter set up across Europe.
On 10th August there was also a demonstration outside the Indonesian Embassy in Warsaw that raised a lot of awareness in the city about West Papua's cry for freedom.
For more photos from the Free West Papua Campaign launching, please visit here
For more videos, please visit here
Big thanks
We would all like to thank all our friends from at Free West Papua Campaign Poland for all their long-standing support and their hard work towards this historic launching.
We feel that this campaign is in safe hands with all the team in Poland and we are all very grateful for their commitment to help spread the message and support from right across Poland for West Papuan self-determination and freedom.
The world is waking up and standing up to Indonesia's illegal occupation and oppression in West Papua.
The Free West Papua message is reaching right around the world!