West Papuan's parade at Oxford Carnival
July 6, 2015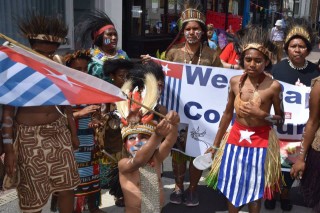 On Sunday 5 July, the Free West Papua Campaign once again joined the Cowley Road Carnival in Oxford, United Kingdom along with other West Papuans from the Netherlands.
We are always happy to join this carnival and we felt very proud today to march and dance through the historic streets of Oxford raising the West Papuan flag and wearing traditional Melanesian clothing. We also held a stall where there was more dancing and we sold Free West Papua Campaign merchandise and handed out many leaflets.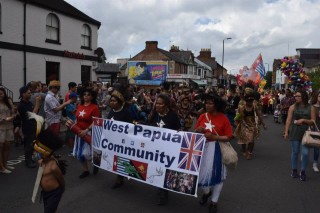 This carnival gave us the opportunity to show the people of Oxford the Melanesian spirit and to raise a lot more important awareness and support for the cause. This Campaign was founded in Oxford where there is now widespread support from the community with the Lord Mayor Oxford raising the West Papuan flag on top of City Hall on West Papua's former Independence Day.
We are very grateful for all the support we recieved today and we are also very confident and encouraged at all the interest and enthusiasm shown for the cause.
We will keep up the Melanesian spirit and keep the Morning Star flying to raise as much support as possible for the freedom of West Papua!