55,000 West Papuans petition Melanesian Foreign Ministers
June 23, 2015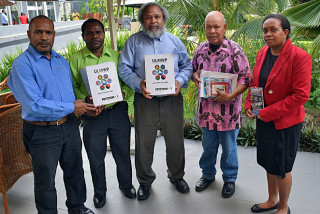 The United Liberation Movement for West Papua (ULMWP) today at the invitation of the Chair of the MSG Foreign Ministers meeting, Hon. Milner Tozaka, presented a petition containing 55,555 compiled signatures from West Papua to the Melanesian Foreign Ministers in Honiara, Solomon Islands.
ULMWP spokesperson, Benny Wenda told the Melanesian Spearhead Group (MSG) foreign ministers meeting that the petition represents 55,555 West Papuans who are supportive of the ULMWP's application before MSG for full membership.
"I want to remind you leaders that the 55,555 signatures presented here before you not only represents the unity behind ULMWP, but they represent the dreams and hopes as well as the bones and blood of over 500,000 West Papuans who have been killed in this struggle for self-determination," said Wenda.
Mr Wenda said it was the MSG summit in Noumea (Kanaky) in 2013 that West Papua's first application for membership was rejected, and at the special MSG leaders summit in Port Moresby in 2014, requested that West Papuans must be united before they could be considered for MSG membership.
What you have requested of us in 2013 and 2014, we have done, we are now united and the petitions affirms our unity as West Papuans for full membership to the Melanesian Spearhead Group," he said.
Wenda stressed that the Act of Free Choice in 1969 handpicked only 1022 West Papuans out of the 800,000 indigenous population, many of whom signed under duress. Today he said, the situation of declaring support has not changed:
"these petitions were signed under risky situations. Even though many back home knew that the military would clamp down on such activities, they were determine to have their voices heard. Over 480 West Papuans have been arrested since May for supporting ULMWP."
"West Papua is a Melanesian and regional issue for the Pacific, and the Pacific and Melanesia will not be free until West Papua is free…our application for full MSG membership is now in your hands supported by 55,555 signatures. We are appealing again to our Melanesian leaders to recognize West Papua and bring it back to the Melanesian family." said Wenda.
The 55,555 signatures took four months to collect after a unification ceremony in Vanuatu last year. The petitions were driven by West Papua National Coalition, West Papua National Parliament, and the Federal Republic of West Papua.
The petitions were endorsed by the National Tribe Council of Chiefs in West Papua, including youth groups, churches, women's groups, and political parties.
For more information:
Benny Wenda
ULMWP Spokesperson
Mobile: +677 7362591
Joey Tau
Acting ULMWP Media Advisor
Email: jtaurakava@gmail.com
Mobile: +677 7364058