Free West Papua ground oven fundraising event held in Sussex
September 9, 2013
This August, 2013, we helped to organise a Free West Papua Campaign fundraising event on the Court Lodge Organics Farm near Brighton, England for West Papuan refugees living in Papua New Guinea.
We held a traditional West Papuan ground oven (also known as bakar batu, dago, mumu, and many other names in various languages) which is an ancient way of cooking food across the Pacific during celebrations.  In this oven we cooked a pig which is an integral part of all Melanesian cultures and other traditional Wets Papuan food. In such a way, we celebrated the recent successes of the campaign, gathered supporters together, encouraged people to donate to the campaign and raised awareness about the plight of West Papuan refugees living in Papua New Guinea.
The project
Over 100 supporters of the campaign attended this event and we successfully raised a large amount of awareness of the political situation within West Papua itself and very significant funds for the more than 11,000 West Papuan refugees who are now living in camps in Papua New Guinea where they have very little access to food, shelter and healthcare and almost none of them any access to education whatsoever.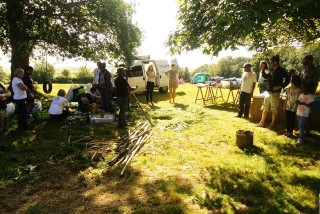 During this event, we helped to raise funds which will enable these refugees to buy a very large area of land in Port Moresby, the capital of Papua New Guinea so that they can start up their own community of Wet Papuan refugees. We will work to provide this community with housing, healthcare and education so that the next generation of West Papuan refugees can grow up with the life, means and sentiment to help to further campaign for the freedom of their people so that one day they can all go home to a Free West Papua.
Our thanks
We would like to thank all those who contributed the music, food and drink for this event which was sold to raise funds for suffering West Papuan refugees.
We would like to thank everyone who helped to organise the ground oven and fire itself which gave the people a very important insight into West Papuan culture and provided food for those attending to help the people of West Papua.
We would like thank Court Lodge Organics for holding this event on their farm as well as everyone who helped to organise this event and coordinate everything together.
Finally we would like to extend our greatest thanks to all those who attended and supported this very significant event which we hold yearly in the UK. All of your help and support was, is and always will be 100% appreciated and needed by the suffering people of West Papua who, thanks to people like yourselves, are beginning to walk the road to the freedom of their people.
It is with events such as these that we will be able to further help raise funds and awareness for the suffering people of West Papuan so that one day they can all live in their own free and independent nation of West Papua.