245 new political prisoners in West Papua
December 7, 2020
Report from Papuans Behind Bars
There were 245 new political prisoners between 1 January 2019 and 30 September 2020. While 198 of the political prisoners on record have now been released, 27 remain in prison serving their sentences, seven are currently on trial and another is awaiting trial. There are at least twelve people on the police wanted list.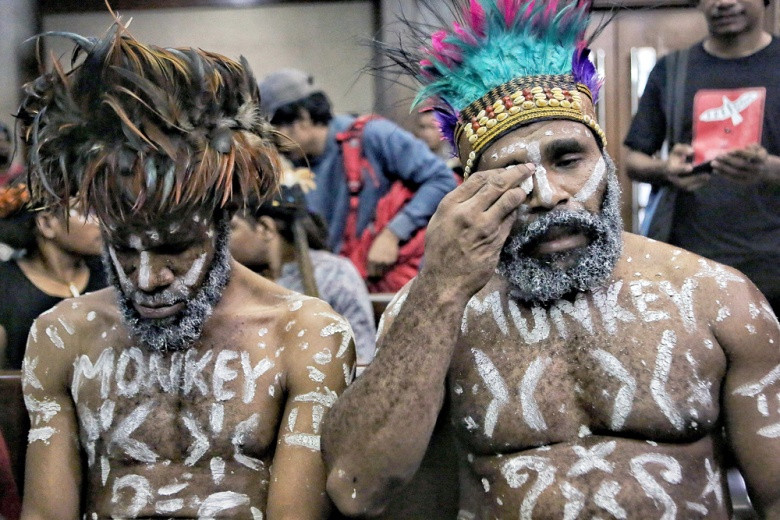 For 2019, the new political prisoners cases can be divided into three categories: those who were arrested at a particular event in January; those who were arrested during the "West Papua Uprising" from August to September; and those who were arrested in the lead up to and during the 1st of December: Commemoration of West Papua Independence Day.
As for the 2020 cases, this update only covers the arrests and detentions up to 30 September 2020.
The list provided at the end of this update also includes the political prisoners from before 2019 who remain in prison, still serving their sentences.
103 treason cases
Of the 245 new political prisoners on record, 103 were charged with treason: 97 in 2019 and 6 in 2020. In the 2019 cases, based on the categories described above, 3 were detained and charged with treason in January, 40 during the West Papua Uprising, and 54 between November and December 2019.
For the first time, an Indonesian (non-West Papuan origin) was sentenced to prison for treason in a West Papua-related protest.
KNPB MEMBERS ARRESTED IN TIMIKA
In January 2019, the police arrested eight KNPB (National Committee for West Papua) members for gathering and holding a traditional prayer ceremony to commemorate the anniversary of KNPB and the New Year. Five were released, but three were detained for treason: Yanto Awerkion, Sem Asso, and Edo Dogopia. Despite the initial charges of treason, the court only found them guilty of incitement and sentenced them to 1 year, ten months and 8 months in prison respectively.
22 PEOPLE DETAINED DURING THE UPRISING
During the West Papua Uprising in August and September 2019, 22 people were charged with treason for their involvement in the Uprising. All their trials took place in 2020. All completed their sentences in prison and have since been released. Below are the summary cases of these arrests:
Seven West Papuan political activists were arrested in Jayapura between 6th and 14th of September 2019. Buchtar Tabuni, Agus Kossay, Stevanus Itlay, Alexander Gobai, Ferry Gombo, Irwanus Uropmabin, and Hengky Hilapok were activists from the ULMWP (United Liberation Movement for West Papua), KNPB, and student groups. They were arrested and initially detained in Jayapura, Papua Province, but later transferred to Balikpapan in East Kalimantan on the island of Borneo. Lawyers for the seven have stated that the transfer was in breach of the criminal procedure law. During the trials in Balikpapan, the prosecutors demanded harsh sentencing, namely 5 years for two of them, 10 years for two others, 15 years for two more, and 17 years for one of them. However, the final sentences handed down were 10 months for four of them, and 11 months for the three others. They were all released not long after their sentencing because they had served most of their prison term while waiting for the trial.
Five West Papuan student activists, Ambrosius Mulait, Ariana Elopere, Dano Tabuni, Charles Kossay, Isay Wenda, and an Indonesian political activist Paulus Suryanta Ginting, were arrested and charged with treason for holding a protest with the Morning Star flag (the symbol of West Papuan independence) outside the Indonesian State Palace in Jakarta in August 2019. The prosecutors demanded a 1 year and 5 months prison sentence for five of them and a 10 months prison sentence for the other. They were sentenced to 9 months (5 people) and 8 months (1 person) in prison. All were released not long after their sentencing.
Student activists Rianto Ruruk, Yoseph Syufi, Manase Baho and Ethus Miwak Kareth were arrested in September 2019 for organising a protest in Sorong, West Papua Province. They were found guilty of treason. They all received 8 months and 15 days prison sentence, and were freed in May 2020 after serving a full jail sentence, which included detention time prior to their trials.
Four activists were arrested related to the Uprising protest in September 2019. Sayang Mandabayan, Erik Aliknoe, Yunus Aliknoe and Pende Mirin were arrested for carrying Morning Star flags, and for organising and participating in a protest in Manokwari. Their trials took place in February 2020 and they were sentenced to 9 months, not for treason but for incitement. They were all released not long after the sentencing.
In September 2019, West Papuan film-maker and activist, Assa Asso, was arrested in the capital city of Jayapura, over a Facebook post that he made regarding the West Papua Uprising. He was charged with treason and incitement, but was sentenced to 10 months in prison only for incitement, and he has since been released.
1ST OF DECEMBER COMMEMORATION (54)
In late November and early December 2019, 54 people were detained and charged with treason for planning or attending the 1st of December Commemoration. Eleven were arrested in Sorong, 20 in Jayapura and 23 in Fakfak. The Sorong and Jayapura cases have at the time of publication not been heard in court. Meanwhile, the Fakfak cases were heard in October 2020 and all 23 individuals have since received their sentences.
TIMIKA 2020 (3)
Three individuals among those arrested in 2020 were charged with treason. Indius (Ivan) Sambom, Temianus Wandikbo and Elpiau Magai were all arrested under allegation of being involved in a shooting incident at the Freeport mining site in Kuala Kencana, Timika, which resulted in the death of a foreign mine worker. Their cases are currently under investigation, with Indius Sambom's case having progressed to the preliminary hearing stage in October 2020.
129 Non-treason cases
There were a total of 129 non-treason cases in 2019 and 2020. In 2019, the majority of the cases (111) came from the West Papuan Uprising arrests. Prior to the Uprising, only three West Papuans were arrested under non-treason charges. Three cases were reported for 2020 for non-treason related charges.
Two people were arrested separately in Jayapura in January 2019. One, Sami Lokon, a KNPB member, was arrested for theft. He was sentenced to jail for 8 months and he died while serving his sentence. Wene Bahabol, also a KNPB member, was arrested for the possession of documents and symbols pertaining to the ULMWP. He was investigated and charged under the 2009 Electricity Law.
The West Papuan Uprising arrests
The events surrounding the West Papua Uprising led to the detention of 135 individuals with charges that were not related to treason. Out of these 135 who were charged, 100 faced trial and 29 were released without trial, although their charges have not so far been dropped. All of those who faced trial were sentenced and served prison sentences. All but six have since been released. Summaries of the non-treason cases from the West Papua Uprising in 2019 can be found here: Jayapura (42), Wamena (33), Deiyai (14), Timika (12), Manokwari (12), Sorong (8), Fakfak (6), Oksibil (6).
Unknown Cases
There are a total of 12 unknown cases. They are the people who are still 'persons of interest' who remain on the police 'Wanted' list. They are: Dance Hegemur, Yakobus Temongmere, Bahlua Tabuni, Victor Yeimo, Veronica Koman, Akon Wenda, Lenggenus Wanimbo, Miron, Nerius Waker, Wendanak Wanimbo, Lerymayu Enumbi and Obet Magai. The first 5 are from 2019 and the rest are from 2020.
---
Treason and non-treason arrests for Indonesian solidarity actions outside of West Papua
In 2019 there was an increase in prosecution against Indonesian activists of non-West Papuan origin who are supporters of West Papuan self-determination protests.
In addition to Surya Anta who was charged with treason along with 5 West Papuans in the Jakarta 6 Case, four other non-West Papuan activists in North-Maluku were arrested and face treason charges. These student activists initially faced expulsion from their University for organising a peaceful rally in solidarity with West Papua. They appealed the decision of the University at the Court in North Maluku. Later, while the Court hearing for their appeal was on-going, they found out that they were also facing criminal investigation by the police. They are currently facing trial for crimes of treason, with threats of lengthy prison sentences.
During the West Papua Uprising, human rights lawyer Veronica Koman and documentary filmmaker Dandhy Laksono were targeted for posting information on their social media about the events surrounding the Uprising in West Papua. Veronica Koman is currently on the police 'Wanted' list, under suspicion of several criminal charges. Dandhy Laksono was arrested and questioned by the police in September 2019 in Jakarta. Although he was released immediately after questioning, the ITE Law violation charge against him has not been dropped.
---
Issues of concerns in the 2019/2020 political prisoners situation
2019 was an unprecedented year for the political prisoners situation in West Papua. Firstly, there were mass civilian protests in many cities in West Papua as well as in several cities in other provinces of Indonesia. The protests in West Papua developed into the 2019 West Papua Uprising.
Secondly, there was increased criminalisation by the Indonesian Government of those taking part in the West Papua Uprising. The Government tried to crack down on mass protests by deploying additional security forces to West Papua, which used forceful dispersal tactics and arrested people who were suspected of or known for their involvement in those protests. This response to the Uprising contributed to the highest number of political prisoners in West Papua in 2019. While the majority were prosecuted under non-treason-related charges, the Government also reinvigorated the use of treason (makar) charges to suppress those expressing/supporting the right to self-determination.
In the months that followed the Uprising, especially in November and December 2019, the authorities continued to use treason charges in the arrests of those peacefully planning or participating in the 1st of December flag-raising ceremony in West Papua.
PROCEDURAL VIOLATIONS
There are several ongoing concerns regarding the treatment of West Papuan political prisoners during this period.
In 2019, the police commonly carried out arrests without presenting any arrest warrants. At the same time, when people were arrested, their families did not receive any information from the police regarding their whereabouts. The police also carried out interrogations of the suspects without their lawyers present. With regard to family members' access, the police did not consider any specific circumstances of individual detainees, including those with children.
Prisoner in focus: Sayang Mandabayan. After she was detained, Sayang was seen breastfeeding her baby behind bars. Later, the baby's access to her was made very difficult by the authorities.
Treatment of political prisoners
Torture was used against many political prisoners in 2019, from when they were arrested to during detention. Forms of torture reported as part of interrogation techniques include beatings, electrocution, and reduced, delayed or refused access to health treatment, among others. In these instances, interrogations were carried out without the presence of a lawyer. In 2019, there were 5 children (minors) reported among the detainees. Four had pretrial release however one was prosecuted for four months. Meanwhile, all political prisoners in custody during the COVID-19 outbreak were at risk of infection because the Indonesian Government refused to release them even though they released hundreds of other prisoners.
Prisoners in focus: Wamena 33. There are reports that the authorities carried out interrogations using torture to get these detainees to confess. Interrogations were also carried out without the presence of a lawyer.
Lawyers appeal: On 15th April 2020, international human rights lawyers submitted an urgent appeal to the United Nations regarding health concerns for West Papuan political prisoners due to COVID-19.
There is a repeat pattern in West Papua of political prisoners being transferred from one location to another, in some cases more than once. This pattern not only continued but intensified in 2019 when West Papuan political prisoners were transferred not only within West Papua but also outside of West Papua. Even when prison transfers take place within West Papua, this not only reduces family members' access to prisoners but also their lawyers, creating less transparency and justice to the process. Transfers outside of West Papua isolate the prisoners from support and advocacy even more and are deemed in breach of the Indonesian Criminal Procedural Code by lawyers.
Prisoners in focus:Balikpapan 7. On 4 October, the police transferred seven of eight political prisoners in Jayapura, charged with treason, to police detention in East Kalimantan. Lawyers for these seven political prisoners stated that the transfer was unlawful as it violated Article 85 of the Criminal Procedural Law. This determines that suspects can only be transferred after investigation processes have been completed and filed with the District or State Prosecutor's Office, and only the Prosecutor's Office can authorise the transfer of suspects under certain circumstances.
CHALLENGES TO LEGAL ADVOCATES WHO DEFEND POLITICAL PRISONERS
For the political prisoners arrested in 2019, particularly from the West Papua Uprising and later, their cases were heard in 2020, when the spread of COVID-19 also greatly affected their lawyers' work. For example, the legal advocacy team for the Balikpapan 7 had to travel the long distance to Balikpapan in order to defend their clients. In addition to travelling at personal cost, they were also at risk of exposure to COVID-19.
It has also been reported that some West Papua-based lawyers who have recently taken part in various webinars have been receiving intimidation and threats from unidentified individuals. Not only do they work at the cost of personal finance and health, but also their personal security is often at stake.
WHAT HAPPENS TO POLITICAL PRISONERS AFTER THEY ARE RELEASED
Some political detainees in 2019-2020 were granted pretrial release. However, while they might have escaped trial, the charges against them were not dropped. This means that they can be re-arrested and detained at any moment.
It is not uncommon that former political prisoners continue to experience intimidation from the authorities after their release. In 2019-2020, some resumed their roles in the organisations they were associated with and became aware that their activities continued to be closely monitored by the authorities. Some ex-political prisoners are labelled by the authorities as "repeat offenders" due to their political activities.
In 2019-2020, it has also been reported that political prisoners were made to sign a 'Declaration of Allegiance' as part of their release process. This Allegiance reportedly includes reference to a "100% Unitary Republic of Indonesia", i.e. denying their right to continue pursuing self-determination for the people of West Papua.
All of the above are limiting the freedom of former political prisoners as free individuals in a democratic nation.