Over 500 arrested on 57th anniversary of Indonesia's invasion of West Papua
December 20, 2018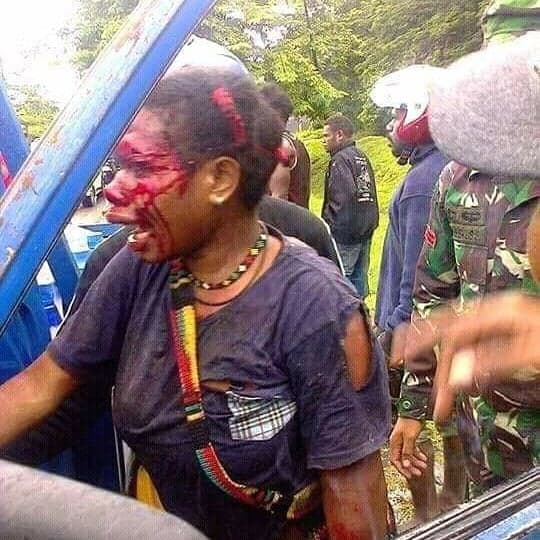 On December 19th, 1961 Indonesia launched its military invasion of West Papua, Operation Trikora. At the time West Papua (formerly known as New Guinea) was then a Dutch territory. The Dutch had retained sovereignty over the territory and were in the process of preparing them for Independence. Indonesian President Sukarno decreed the establishment of the People's Triple Command or Tri Komando Rakyat (Trikora) in order to fully annex West Papua within two years.The eventual ceasefire deal between the Dutch and Indonesia culminated in the signing of the New York Agreement.
Having already created a West Papuan national identity, and their own governance, West Papuans had stepped into their independence, and to this day have no intention of remaining under colonial rule.
On this 57th anniversary of Indonesian invasion the people of West Papua again took to the streets in peaceful demonstration to call for their freedom.
In an initial report of the days demonstrations Papuans who were gathered in peaceful resistance were subjected to mass arrests, beatings, shootings, confiscation of their property, and dehumanized by Indonesian security forces.
In Timika 130 people were blockaded from marching
In Merauke 26 people were gathered and 4 were arrested
In Bali 66 people were gathered 4 people were brutalized
In Jayapura (Sentani) 21 arrested 15 were taken to the police station as Doyo Sentani
In Jayapura (Waena) 2 people arrested
In Jayapura (Front uncen) 2 people were arrested
In Jayapura (Pos 7) 15 people were arrested
In Malang the gathering was blockaded, people were beaten, and 64 were arrested
In Jayapura (Dock 9) the demonstration was forcibly dissolved
In Ternate 42 people were arrested, 7 people were forcibly arrested, the status and whereabouts of 8 people who were beaten is unknown at this time. 27 have since been released.
In Jayapura (location unconfirmed) 3 people were reportedly beaten by police
In Jayapura (Lani Jaya dormitory) 170 people in the dormitory were arrested, an unconfirmed number of people were beaten, had their cellphones and campaign materials confiscated
In Bandung there are reports of conflict. Confirmed details are still pending
Reports from witnesses of some of the beatings say people were struck in their chests and heads with wood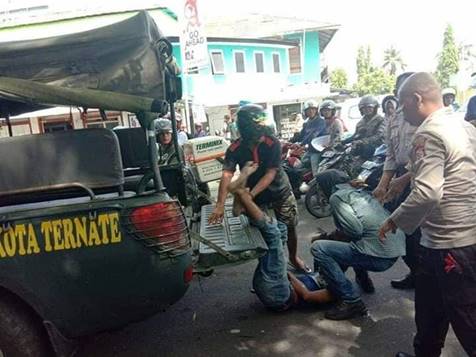 A report posted by the Komite Nasional Papua Barat (KNPB) included an eyewitness account that stated "This peace act is dissolved with violence, and a shot and then a chase. The police also hit the mass of action with shots, so many shots. The mob finally ran out into the woods between Kamwolker."
Speaking from a demonstration in Jayapura, KNPB Deputy Chairman Victor Yeimo said in a video statement "Today we remember in West Papua the first time Indonesia occupied this land 1st December 1961. We in this generation stand with the people of West Papua. We want Indonesia to know we are fighting for our freedom. We will fight until our right is back. Today we want Indonesia to stop military [action] in West Papua. Please withdraw your military from West Papua. We demand you open a true democratic process through referendum. This is a true peaceful solution for you. This is a peaceful solution from West Papua's people. We don't want violence in West Papua. Please withdraw your military operation in Nduga. We want you to resolve the problem in West Papua in a peaceful way."
This situation comes at a time of increased violence in West Papua, including suspected extra judicial killings in the region. Urgent issues of concern also include increased military presence, the killing of civilians caught in crossfire in the mountain regions, and armed civilian movements of Papuans protecting their villages. The urgent situation happening in Nduga has gained international attention. The situation in West Papua is becoming urgent.
Background
Since the first day of invasion until now West Papuans have been resisting Indonesia's occupation. While enduring five hard decades of daily human rights abuses they have diligently been calling for their freedom, and they will continue to do so until they achieve a genuine internationally supervised vote for their independence.
The New York Agreement had established the terms for the failed Act of Free Choice plebiscite of 1969. Instead of a fair vote, the people of West Papua were denied true adult suffrage. Under a threat of violence only 1026 Papuan men were handpicked to perform a staged unanimous vote in favor of Indonesian rule for U.N. observers. Papuans are risking their lives to tell the world they demand the vote they were promised. Last year 1.8 million West Papuans secretly signed a petition calling for U.N. intervention. Just this month over 800 people have been arrested, many of them beaten and tortured, hundreds have fled into the jungles for safety, all while a bloody conflict rages in Nduga. How much more suffering and unrest will it take for the United Nations to intervene and do the job they have been morally and legally obligated to do for 57 years? West Papuans should not wait under these horrific conditions. The time to free West Papua is now.
Please email office@freewestpapua.org for interview requests.
#FreeWestPapua #KeepWestPapuaSafe #LetWestPapuaVote