Indonesian police forces arrest dozens of West Papuan students during peaceful protest
August 16, 2018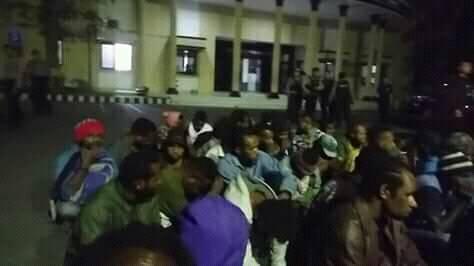 Breaking news from Surabaya, Indonesia. On August 15th, 2018 Indonesian police forces arrested at least forty nine West Papuan students during a peaceful protest organized to recognise and reject the 'New York Agreement,' which was the formalization of administrative control over West Papua in 1962.
While gathered in Surbaya, the capital of East Java, West Papuan students were surrounded by Indonesian intelligence agents and arrested. At the time of this posting students are reportedly still being held in police custody.
Story still developing.
Photo information:  Papuan students surrounded by Indonesian (Civil) & Tni / police apparatus of Surabaya.
*** UPDATE*** All students have been released from police custody. It is unknown at this time if there were any criminal charges filed.