Benny Wenda offers heartfelt thanks for 'West Papua Desk' opening
June 14, 2018
Publishing a statement on his website today, ULMWP Chairperson Benny Wenda thanked the organisers and people of Aotearoa New Zealand for their hard work in launching the West Papua Desk. The new project is hosted by the national trade organization FIRST Union, with oversight of the program provided by West Papua Action Auckland. The "desk" is intended to be a hub for organizing events, and to provide a public community space for raising awareness about the independence aspirations and human rights violations in West Papua.
Listen to Pacific Media Centre's  Audio of Marama Davidson MP speaking at the opening of 'West Papua Desk'
Moved by the generosity of the support from West Papua's Pacific neighbors.  Wenda  said "This historical and kind gesture is an empowering gift from the people of Aotearoa to West Papua. We accept your offering with deep gratitude, and give our everlasting friendship in return. We thank you for seeing West Papua's battle for freedom and extending a hand to us during our time of need. The journey is sometimes dark and weary, but a ray of hope from our Pacific family can light the way on this long road. June 11th 2018 is now a great day to remember on this path to freedom. We will write it down in history as a day of friendship between neighbours." Click here to read Wenda's full statement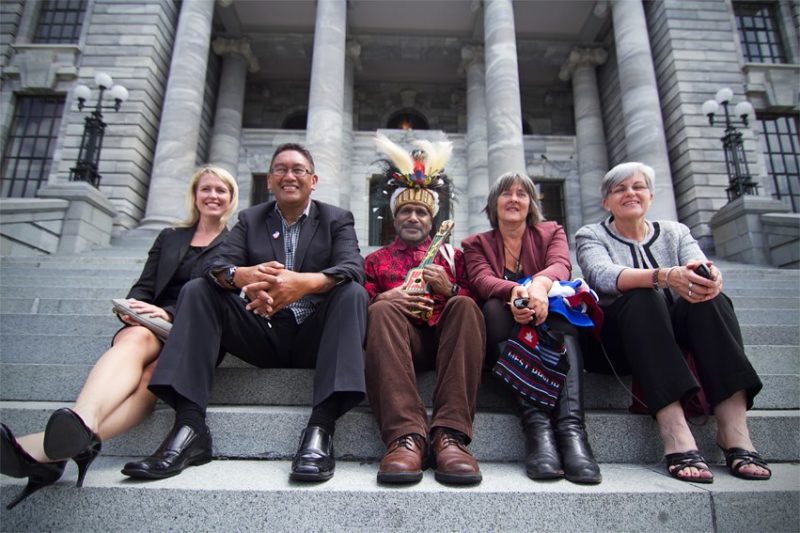 Click here for Maori TV coverage
Photo information; Mana leader Hone Harwara, Labour MP Maryan Street join Benny Wenda, Jennifer Robinson, and Catherine Delahunty on parliaments steps during Wenda's first visit to New Zealand last year.