Press Release: A call to protest against the arrival of Indonesian President Jokowi
April 18, 2016
Dear Free West Papua Supporter,
On the 20th April 2016, Joko Widodo President of Indonesia, will attend a business meeting at the Mandarin Oriental Hotel, Knightsbridge London. This is our opportunity to make it clear to Joko how we feel about his governments ongoing acts of human rights abuses in West Papua, and the growing number of innocent West Papuans dying at the hands of his rogue, trigger happy military forces. The killing of West Papuan people is now estimated to have risen to well over 500,000.
Join West Papuan Independence Leader Benny Wenda and FREE WEST PAPUA supporters outside the
Mandarin Oriental Hotel, 66 Knightsbridge, London SW1X 7LA
From 9am till 3pm for a peaceful protest – but one that sends Joko a very, very strong message…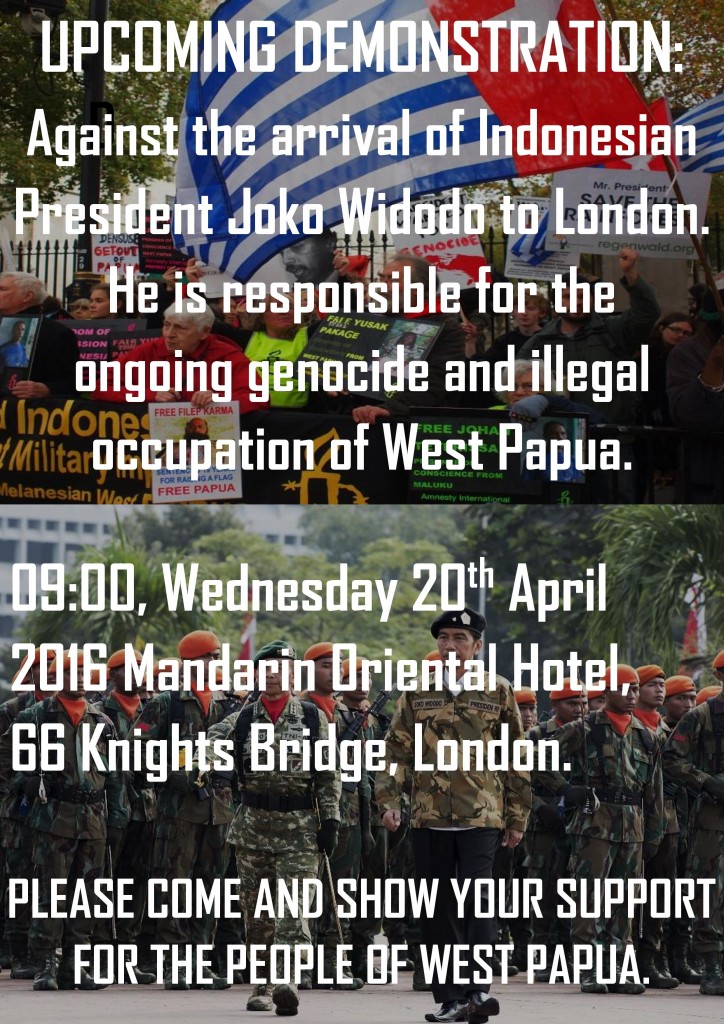 He will also be addressing parliament at
                 4.30pm on April 19th
If anyone wants to organise something, great!
 
Please come and show your support and spread the word. We know it is last minute but together we can help raise the profile of West Papua and use this visit against Jokowi and finally show him and the people he is here to do business with that we mean business!!! He cannot get away with this genocide any longer.  
Please feel free to send press release and poster attached to your networks and on your social media sites. Thank you for your support.
PRESS RELEASE
Indonesian President to visit the United Kingdom – A call to protest
From Tuesday 19th to Wednesday 20th April, the Indonesian President Joko Widodo (Jokowi) will be visiting the United Kingdom.
Both he and his government have overseen the mass violations of human rights and ongoing illegal occupation of West Papua. Only this week over 40 West Papuans have been arrested and many tortured simply for joining peaceful demonstrations for self-determination.
President Jokowi has also overseen massacres of West Papuan people in Paniai, Yapen and other areas and yet not made any sincere efforts to bring justice. In fact, the Indonesian Human Rights Commission and the Commission for the Disappeared and Victims of Violence has found that human rights abuses have increased under the reign of Jokowi with more than 1,200 people suffering from harassment, killings, torture and ill-treatment last year alone.
This only adds to the horrific list human rights atrocities that have already been committed in occupied West Papua and it is estimated that more than 500,000 West Papuan people have been killed ever since Indonesia first took control of West Papua In 1963.
Therefore the Free West Papua Campaign will protest against the arrival of the Indonesian President whom the people of West Papua are holding accountable for the ongoing genocide of their people and the ongoing illegal occupation of their county.
We will be demonstrating outside the Mandarin Oriental Hotel
66 Knightsbridge, London, SW1X 7LA at 09:00 where the Indonesian president will be speaking at a business forum. We urge as many people as possible to please come and help to show the Indonesian government that the people of the UK and the world cannot, do not and will not tolerate the ongoing genocide and illegal occupation of West Papua. We also urge human rights groups and NGOs to come and demonstrate against the arrival of the Indonesian president and his government which show no genuine regards for human rights and recently expelled all NGOs from West Papua.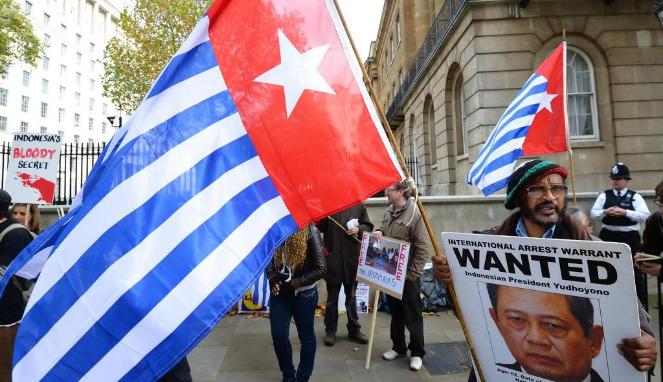 In 2013 when the former Indonesian President Susilo Bambang Yuhoyono came to the UK, the Free West Papua Campaign held 5 successful protests in 2 days, all raising significant awareness and pressure on the Indonesian government which was responsible for genocide and the illegal occupation of West Papua.
If President Jokowi is a true believer in democracy, then he must allow freedom of expression, and media freedom. He must allow justice and most importantly he must allow the people of West Papua to freely exercise their fundamental the right to self-determination.
We will continue to demonstrate and Take Action for West Papua until the West Papuan people are finally allowed to exercise their right to self-determination freely and peacefully at last.
Free West Papua
Ends//