Join us to celebrate 10 years of the Free West Papua Campaign
November 19, 2015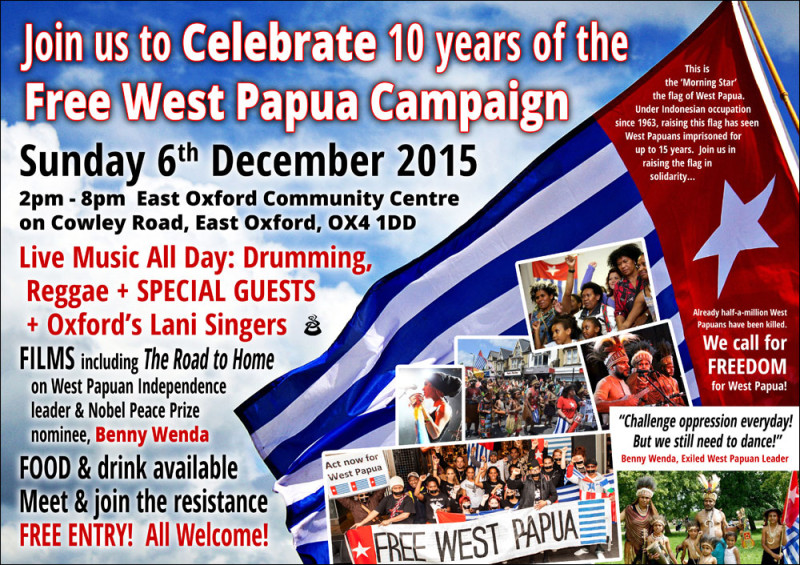 The Free West Papua Campaign is celebrating the 10th anniversary of its official Oxford launch, and we would like you to join us!
The first celebration will coincide with West Papua's original Independence Day on December the 1st, when the Morning Star flag will be proudly flying high above Oxford Town Hall.
Oxford has been raising the Morning Star in solidarity with West Papuans since 2005, when the Campaign was launched in the presence of former Bishop of Oxford, Lord Harries, East Oxford MP the Rt. Hon Andrew Smith and the former Lord Mayor of Oxford. Since then, we have grown from a volunteer organisation to a widespread international movement, with permanent offices in the Netherlands, PNG and Australia, as well as here on Oxford's Cowley Road.
To mark the occasion, we will be holding a special meeting in the Panel Room of the Hall, at 11.00am on December 1st. The meeting will be addressed by Campaign founder and Nobel Peace Prize nominee Benny Wenda, as well as former Mayor of Oxford and current councillor for Iffley Fields, Elise Benjamin. We would also like to invite all of our Oxford friends and supporters to join us, in order to thank them for everything they have done to help us along the way.
The second celebration will be an all-day event on Sunday the 6th of December in the East Oxford Community Centre (between 2.00-8.00pm). We will have music all day, including live performances from The Lani Singers and special guests. We will also be showing films, including a unique opportunity to see the acclaimed Road to Home, the feature length documentary following Benny's international campaigning. There will be food and drink, laughter and dancing, so please come and help us celebrate.
PAPUA MERDEKA!
The Free West Papua Oxford Team.