West Papuan teenager beaten, tortured and electrocuted by the Indonesian police
September 30, 2015
We have just received an urgent comprehensive human rights report from the West Papua National Committee (KNPB) that on Monday 28th Levi Gebze a 16 year old West Papuan boy was arrested and tortured by the Indonesian police in Merauke.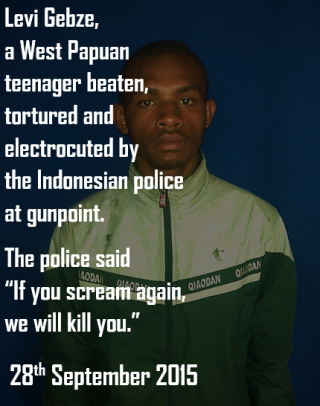 According to the report, at 13:30 Levi was on the way home on the Muli Road. He was suddenly followed by an Avanza car with 4 members of Indonesian police/intelligence inside. He was stopped and forced to get inside the car and with no questions asked was beaten by the police. He was apparently beaten and mugged with a pistol. He was then brought to the police station where he was interrogated and tortured again. He was beaten and also electrocuted. The police arrested him under charges of stealing a bag and laptop on the Yobar beach but when he denied the charge the police continued to beat and electrocute him.
Levi was then told to get into a car and was brought by 4 police officers to the local Junior High School to get information related to the case. Witnesses testified that he was still in the car and still being beaten. He was then taken on the road and the police even threatened to kill him, saying "You don't scream again. If you scream again we will kill you." The Human Rights report stated that he was then returned to the police station where the persecution and electrocution continued, even though he was innocent of theft.
It is not yet known what happened afterwards but at 16:00, the family of the victim arrived and took him home.
Levi is still suffering the effects of this brutal torture and there has been no investigation into the actions of the police whatsoever. This attack came on the same day 1 West Papuan teenager was killed and another shot by the Indonesian police in the town of Timika. It also comes less than 3 weeks after Douglas Nasyok, another West Papuan teenager was beaten and tortured by the Indonesian police in Merauke, the same town as Levi.
These events are further evidence of the deteriorating human rights situation spoken of by Dame Meg Taylor, Secretary General of the Pacific Islands Forum recently. The people of West Papua continue to call for a Fact Finding Mission to be sent West Papua and we welcome and encourage efforts by the Pacific Islands Forum to help this happen.
West Papua remains an emergency zone under illegal Indonesian occupation and we continue to appeal to people all around the world including the world's media, parliamentarians, organisations and others to please spread the word and Take Action to help the people of West Papua finally be free in their own nation.
Photo and human rights information from the West Papua National Committee (KNPB).