MSG Leaders' Summit Commences
June 18, 2015

The Uncertain fate of Melanesian Politics as the Spearhead Group Leaders' Summit Commences 
For immediate release: 18th June 2015
Today officials and representatives of the Melanesian Spearhead Group (MSG), a Pacific regional trade and cultural body, began to arrive in Honiara where the MSG leader's summit will be taking place on the 24th-26th of June. One of the points for discussion will be West Papua and Indonesia's applications to join the MSG.
The MSG is currently made up of four Melanesian nations – Fiji, Papua New Guinea (PNG), Solomon Islands, Vanuatu – and New Caledonia's pro-Independence movement, the Front de Libération Nationale Kanak et Socialiste (FLNKS).  This week the MSGs leaders will make a momentous decision in regard to West Papua's application to join the MSG which will have potentially emancipatory consequences for West Papuans, and could threaten Indonesia's historic claim over the territory.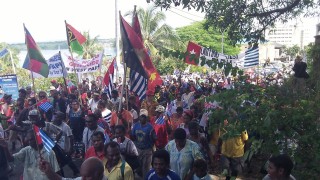 West Papua applied for MSG membership in January this year through the umbrella organisation, the United Liberation Movement for West Papua, (ULMWP). This was formed in response to West Papua's original application to join the MSG in October 2013, which was rejected on the grounds of not representing all the pro-independence movements in West Papua.
If West Papua are welcomed into the MSG it will be the first official recognition of West Papuan's as a Melanesian people, who have a right to nationhood. This will simultaneously challenge Indonesia's right to occupy the nation.
That is why it is perhaps of little surprise that within a few months of West Papua's application to join the MSG, Indonesia also submitted an application to join the MSG. Following this application the Indonesian Foreign Minister, Retno Marsudi, visited the four nations of the MSG and promised them $20 million in 'capacity building' initiatives, a dubious move, given its timing.
Another suspicious circumstance came into play earlier this week when Vanuatu's Prime Minister, Joe Naumann, a stringent supporter of the West Papuan campaign for self-determination who was guaranteed to vote in favour of their application at the MSG Leader's Summit was toppled.
Benny Wenda, twice nominee of the Nobel Peace Prize and champion of the Free West Papua Campaign will attend the MSG this coming week as one of the five leaders of the ULMWP.
He said: "The Indonesian government's colonial occupation of West Papua will be under immense threat, should West Papua's membership to the MSG be granted. Indonesia is therefore attempting to influence MSG leaders with bribe money and interfering in their internal politics."
"However, my people have campaigned committedly and are confident that the leaders of the Melanesian countries will show true Melanesian solidarity and welcoming West Papua back into its rightful place in the Melanesian family".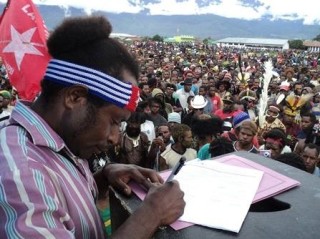 Yesterday a petition was published with the signatures of over 150,000 West Papuan people who expressed their full support of the ULMWP to represent them within the MSG. This petition has raised such a volume of signatures despite an Indonesian government ban on pro-ULMWP support and an alleged heavy crackdown on related demonstrations where 459 arrests of Papuans were said to have been carried out by the Indonesian authorities.
Wenda is calling upon the leaders of the MSG to take a lead on the fate of West Papuan membership to the MSG from their own people who, in his opinion, have already demonstrated their overwhelming support for West Papua. "From PNG to the Solomon Island tens of thousands of Melanesians have demonstrated supporting West Papua's membership to the MSG. They have courageously stood up against the economic powerhouse that is Indonesia in favour of Melanesian human rights. The MSG leaders must represent the Melanesian people and help to put an end to West Papua's suffering at the hands of the Indonesian occupation."
//ENDS

NOTES TO EDITORS
1.
There exists a West Papuan civil resistance movement which seeks to expose what they consider to be the illegality of the 1969 Act of Free Choice, a bogus referendum following which the region of West Papua was annexed with Indonesia.  This movement's goal is to highlight the inalienable right of the people of West Papua to determine their own future through a free and fair referendum.
They point out that West Papuans are ethnically, culturally and historically Melanesian and therefore West Papua is an integral part of Melanesia which is also why they wish to join the MSG. Conversely,  West Papua shares no pre-colonial ethnic, religious or cultural affinity with Indonesia who are said to have brutally occupied their nation and committed a creeping genocide that is thought to have killed an estimated 500 000 people.
For more information on the Free West Papua campaign visit:
https://www.freewestpapua.org/
For more information on Benny Wenda, visit:
Contact: office@bennywenda.org  Telephone +6777362591