Free West Papua Campaign joins Cowley Road Carnival in Oxford
July 6, 2014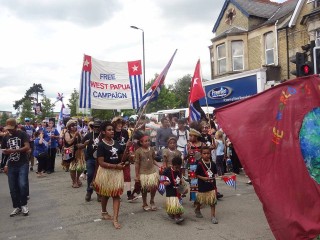 The Free West Papua Campaign proudly joined the world famous Cowley Road Carnival in Oxford, United Kingdom, where the first office of the campaign was opened.
This was a very significant date for the people of West Papua as exactly 16 years ago to the day was the Biak massacre where over 150 Papuans were raped and killed by the Indonesian military.
By continuing to raise world awareness about the situation in West Papua through joining public events such as these, we help to put pressure on the Indonesian authorities to stop such atrocities happening in the future.
The carnival
Every year, the Free West Papua Campaign joins the renowned Cowley Road Carnival parade and also holds a stall to raise essential awareness and support for the people of West Papua with the Oxford community and other cultures all around the world.
Among those present in the crowd was the Lord Mayor of Oxford, Mr. Mohammed Abbasi who happily greeted us again.
A strong supporter of the West Papuan people, Lord Abbasi personally opened our Free West Papua Campaign office in Cowley Road last year.
Like many other Oxford Mayors before him, every 1st December, (West Papuan independence day from the Dutch) Mr. Mohammed Abbasi remains committed to officially raising the West Papuan national flag atop Oxford City Hall.
This year, we are delighted to announce that the day was once again a huge success for West Papua with widespread support coming from a vast amount of people gathered at the event.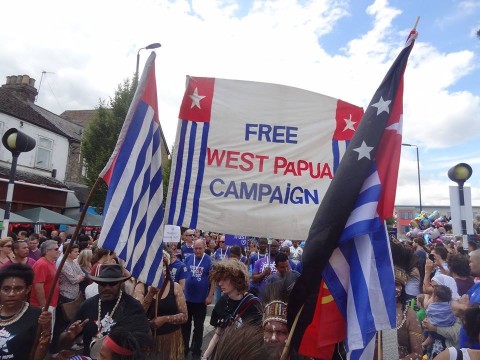 Widespread support from East Timorese community
Oxford is home to one of the largest communities of East Timorese in the UK and yesterday scores upon scores of Timorese, both young and old were all very proud to show a lot of support for West Papua, whose people are suffering the same genocide and illegal Indonesian occupation as they did.
Many of them told how the Indonesian government and military strategy has not changed and that the ongoing genocide in West Papua is almost exactly like what their own people experienced.
The East Timorese pledged their support for a Free West Papua and were incredibly encouraged to see such a strong and alive struggle for West Papua right there in Oxford.
A great opportunity for West Papua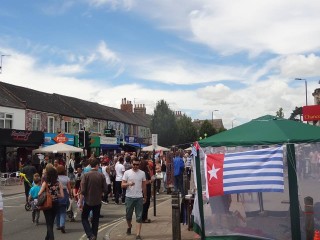 We feel that the day was a great opportunity for building further grass-roots support for West Papua from the UK and a huge amount of awareness was raised about the struggle with much Free West Papua merchandise sold and information handed out.
We are always happy to meet with more and more supporters so please do come to our events, support our struggle and spread the message of the West Papuan people around the world.
Join our campaign for a Free and independent West Papua
Thank you very much