Canadian cyclist meets with Papuan political prisoners
December 16, 2013
We are very happy to report that in West Papua today at 11:30 in the morning in Abepura prison, world famous Canadian cyclist Jeremy Bally from the international Pedalling for Papua campaign, ended his world bike tour and met with some of the most famous and high profile West Papuan political prisoners.
Smuggled into prison
Mr Bally, who has become widely known as an inspirational and thoroughly committed activist for the West Papuan cause was smuggled into Abepura prison this morning where he met with many famous West Papuan leaders behind bars, including Filep Karma, Victor Yeimo, Forkorus Yaboisembut, Selpius Bobi, Dominic Surabut, Aug Kraar, Yudison Murib and many other political prisoners and handed over several very important international documents about West Papua, postcards to the prisoners and a video.
Filep Karma (see www.freefilepkarma.org) who is currently serving a 15 year prison sentence behind Indonesian prison bars for raising the West Papuan national flag received Jeremy's gifts and thanked him for his hard work and commitment for the struggle and another West Papuan leader, Forkorus Yaboisembut, (currently serving a 3 year sentence for declaring the Federated Republic of West Papua and raising the West Papuan national flag) handed over to Jeremy several more documents concerning Indonesia's illegal claim to West Papua via the so called "Act of Free Choice".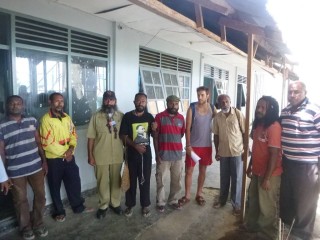 Before he left, Jeremy had time to pose for this photo and share a prayer with Papuan leader Edison Waromi, (imprisoned for the same reasons as Fokorus Yaboisembut). Mr Waromi said in prayer "One day we will be free".
Pedalling for Papua
Pedalling for Papua is the incredible new campaign started by Jeremy to raise funds and awareness and funds for the West Papuan struggle.
Cycling thousands of miles, and giving countless talks and events, Jeremy has travelled the world in many different countries, helping to make West Papua a global household name from his bike.
We highly commend this campaign and hope that it helps to shine more light on the darkness of Indonesia's 50+ year illegal occupation of West Papua
A message of thanks to Jeremy from the Free West Papua Campaign
We would like to express our deepest respect and thanks to Jeremy for his tireless work in helping the suffering people of West Papua, especially as he so bravely smuggled himself into Abepura prison today to meet with the leaders of the West Papuan struggle behind bars.
Jeremy's efforts show to us all how One man can make a difference and his incredible campaigning is a true example to all of us helping to fight for the people of West Papua.