British PM Criticized for 'Overstating' Indonesia's Democracy
April 27, 2012
Erwida Maulia
http://www.thejakartaglobe.com/news/british-pm-criticized-for-overstating-indonesias-democracy/514484
Human Rights Watch has criticized British Prime Minister David Cameron for his statements about Indonesia's democracy, saying he overrated it while neglecting reports of ongoing rights abuses.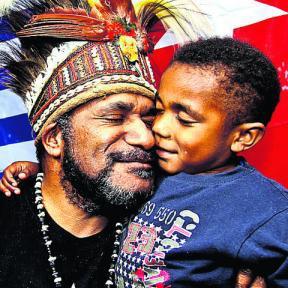 Cameron praised Indonesia during his Jakarta visit earlier this month, saying Indonesia's transition to democracy could be a model for other Muslim majority nations.
"The people of Indonesia can show through democracy there is an alternative to dictatorship and extremism. That here in the country with the biggest Muslim population on the planet, religion and democracy need not be in conflict," he told students at Al-Azhar University in Jakarta on April 12.
"Following your example, young Muslims across the world will be inspired to choose democracy as their future," he added.
HRW, however, issued a statement on Friday criticizing Cameron's remarks, saying he "overstated" Indonesia's democracy and disregarded "serious ongoing human rights violations" in the country.
"The Indonesian government has done little to stop increasing violence and discrimination by Islamist militant groups against religious minorities such as Ahmadis, Christians, and Shiite Muslims," the group said.
"In Indonesia's Papua and West Papua provinces, Indonesian security forces are still not held fully accountable for rights violations against peaceful independence activists."
HRW also expressed its concern with Cameron's plan to lift a decade-old ban on exporting British military equipment to Indonesia. The group said it sent a letter, also on Friday, to the British prime minister over the criticism.
Cameron and Indonesia's President Susilo Bambang Yudhoyono witnessed the signing of a $2.5 billion deal between national flag carrier Garuda Indonesia and Airbus in Jakarta during Cameron's visit.
The two leaders also said they would try to double trade between their countries within three years.
Australia, Indonesia complete joint naval operation
Michael Coggan
The Australian Defence Force says an annual joint operation with the Indonesian Navy off the coast of northern Australia is improving maritime security.
Two Indonesian Navy boats have docked at Darwin's patrol boat base on Friday after an eight-day joint operation with the Australian Navy.
The boats have been patrolling the economic exclusion zone on the Indonesian maritime border with Australia looking for illegal fishers.
It is the third time the annual joint operation has been held as part of an agreement to improve maritime security, including patrolling for boats illegally entering Australian waters.
While no illegal fishing was detected during the operation the boats had an opportunity to exchange crew members and to learn how their counterparts conduct patrols.
The two Indonesian fast attack boats are due to leave Darwin harbour on Saturday.
Indonesia trip first item as PM – Abbott
http://www.skynews.com.au/topstories/article.aspx?id=744116&vId=
Tony Abbott would visit Jakarta within a week of winning office to complain about Indonesian vessels 'disgorging' asylum seekers into Australia, likening them to Australians who smuggle drugs into Bali.
In rare comments on foreign policy, the opposition leader on Friday said Australia would be taken more seriously on the world stage if it better dealt with 'backyard' issues like people smuggling and the turmoil in Papua New Guinea.
Mr Abbott said his promise that a coalition government foreign policy would focus less on Geneva and more on Jakarta did not mean he believes Australia should withdraw from the world.
'We count for something in the wider world and should use our reach and sway to promote Australia's true interests and best values,' he said in a speech to the conservative Institute of Public Affairs thinktank in Melbourne.
'My contention, rather, is that we would be taken more seriously in the world at large if we were coping better with the backyard issues in which we have a vital national interest and for which we have prime responsibility.'
Mr Abbott said Australia currently seems to have little influence in countries like PNG and Indonesia.
'Likewise, in the Pacific, indifference and neglect have created a vacuum into which less benevolent influences could readily expand,' he said.
Nothing better illustrated Labor's 'incorrigible' policy failings than border protection, he said.
Mr Abbott says he would on the first day of his prime ministership call Nauru to have the Howard government-era detention centre there reopened.
'Within a week of taking office, I would go to Indonesia to renew our cooperation against people smuggling,' he said.
'I would, of course, politely explain to the Indonesian government that we take as dim a view of Indonesian boats disgorging illegal arrivals in Australia as they take of Australians importing drugs into Bali.'
Mr Abbott has also reaffirmed his intention to turn boats back to Indonesia – where it is safe to do so – despite Indonesia repeatedly warning it would not accept such a policy.
Mr Abbott says he would give the Navy new orders in his first week as PM to turn 'Indonesian flagged, Indonesian crewed and Indonesian home-ported' boats around.
He also reaffirmed his intention to reintroduce controversial temporary protection visas.
Mr Abbott said the coalition was firmly pro-immigration: 'To be otherwise would be almost anti-Australian.
'It's vital, though, for our country's well-being, that the immigration program be run unambiguously in our national interest and that every migrant be enthusiastic about joining the team.'
Mr Abbott also used the speech to call for easier 457 visas for skilled migrants, describing them as 'the best possible immigrants to Australia'.
'They make a contribution from day one. From day one, they are immersed in the Australian way of life,' he said.
'They also help Australian businesses to make the most of their economic opportunities to build a prosperity in which every Australian participates.