News Stories
Category: Self-Determiantion
Page 2 of 14
11 - 20 of 134 posts

January 10, 2018
Yesterday West Papuan political prisoner Yanto Awerkion was in court facing charges of "treason" after helping to support the West Papuan People's Petition. After months of postponing the trial following a lack of witnesses, the judge himself did not show up and so the trial has been postponed until Thursday…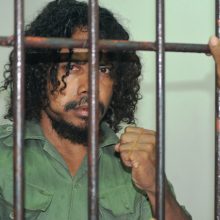 January 10, 2018
Sydney Criminal Lawyers spoke to Free West Papua campaign spokesperson Raki Ap about the conditions that Mr Awerkion is facing, the question around charging an individual with treason over a petition that Indonesian authorities claim is a hoax, and freedom for Yanto and West Papua.

January 7, 2018
On 25th December at approximately 04:00 AM (West Papua time), 19 year old West Papuan youth Nikolausi Bernolpus was shot dead by the Indonesian police in the town of Kepi in the Mappi District. Illustration: TabloidJubi The human rights organisation, the International Coalition for Papua (ICP),…

January 3, 2018
World's eyes on Indonesia as Political Prisoner Yanto Awerkion is tried for Treason Over Support For West Papua Independence Petition – 9th January 2018 Video of Yanko Version 1 (with subtitles) www.x Version 2 (without subtitles) www.x LONDON – The world's eyes are on Indonesia on 9th January 2018 as…

December 24, 2017
On 21st December, we received reports from a grouping of Indonesian and West Papuan human rights groups on the shooting and torture of West Papuan civilians, including children, amid Indonesian military and police "sweeping operations" in the Nduga region, West Papua. The Mugi district in the…

December 22, 2017
West Papuan independence leader Benny Wenda has written this Christmas and New Year message to the people of West Papua and all international supporters, giving his thanks at the incredible progresses made for West Papua in 2o17 and his encouragement for the years ahead. The Free West Papua Campaign echoes…

December 19, 2017
Please help us to get Yanto out of jail Please help us free Yanto Rather than sharing Christmas with his family, West Papuan political prisoner Yanto Awerkion will be spending Christmas day in a prison cell in West Papua – all for signing a petition…. In May 2017, the Indonesian…

December 19, 2017
Today, an unprecedented wave of solidarity from people across Indonesia took place for West Papua's freedom as the West Papuan Student's Alliance (AMP), together with the Indonesian People's Front for West Papua (FRI-West Papua), held rallies in 14 Indonesian cities.

December 16, 2017
It brings us great sadness to report the brutal murder of yet another young West Papuan activist by the Indonesian police. Mekky Hisage died on Friday 15th December, from critical injuries sustained from Indonesian police torture.

December 16, 2017
This year, people across West Papua held demonstrations across the country calling for their fundamental human rights, including their right to self-determination. Meanwhile, a 16 year old West Papuan boy was shot by suspected members of the Indonesian Special Forces.