Join the Global Action to release West Papuan political prisoners
On Tuesday 16th June, there will be a Global Day of Action calling for the release of West Papuan political prisoners, especially the #Balikpapan7 who are facing up to 17 years in jail just for protesting against racism.
The verdict of the trial will be the next day on Wednesday 17th and they need YOUR support! Here's how you can get involved:
1. Print out the supportive poster via this link. 
2. Photograph yourself/your friends holding the poster(s) and calling for their release (make sure to safely socially distance).
3. Send the photos to us with: #FreeTheBalikpapan7 and any of the following hashtags: #PapuanLivesMatter #BlackLivesMatter and #IndonesianLawIsRacist.
We'll make sure to post all the photos on this page and our wider social media, sharing your solidarity with the world!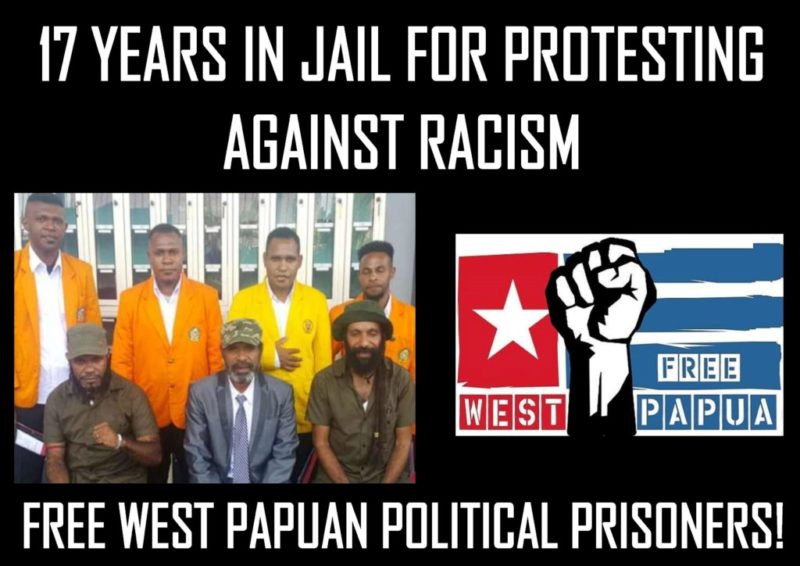 MESSAGE THE INDONESIAN JUDGES TO DEMAND THEIR RELEASE
Please also send a message to the Indonesia Panel of Judges who will preside over the case in court. Ask that the seven anti-racists activists be released immediately and without conditions.
Please use these messages in your communication with the judges:
"We condemn Indonesian racist law.
Immediately stop criminalization of freedom of expression.
Free the West Papuan anti-racist activists without conditions and free West Papua political prisoners"
You can also state in Bahasa Indonesia: "Bebaskan TAPOL Papua!" (Release the West Papuan political prisoners).
Names of the Judges:
Pujiono, S.H, M.Hum
I Ketut Mardika, S.H, M.H
Arif Wisaksono
Sutarmo, S.H, M.Hum
Agnes Han Nunggraeni, S.H, M.H
Bambang Condro Waskito, S.H, M.H
Bambang Trenggono
Address and Contact numbers:
Pengadilan Negeri Balikpapan, Kalimantan Timur
Street: Jend. Sudirman, No. 788 – Balikpapan, 76114
Landlines: (+62-0542-762767)
Fax: (+62-0542-761661)
WA and mobile: +62 813-5060-0448 or at +62 852-4662-2266
Email: pn.balikpapan@yahoo.co.id; delegasi.pnbalikpapan@gmail.com
The
#Balikpapan7
anti-racist activists in jail are:
1. Buchtar Tabuni, facing 17 years in jail
2. Agus Kossay, facing 15 years in jail
3. Steven Itlay, facing 15 years in jail
4. Ferry Gombo, facing 10 years in jail
5. Alex Gobai, facing 10 years in jail
6. Irwanus Uropmabin facing 5 years in jail
7. Henkgi Hilapok, facing 5 years in jail
Among many other political prisoners, Bazoka Logo has also been jailed and has since contracted Covid-19. We are extremely concerned about his health and also demand his release and the release of all West Papuan political prisoners.