Invite your UK MP to the All Party Parliamentary Meeting on West Papua
The All-Party Parliamentary Group on West Papua, an important group in Westminster composed of MPs and Lords from various parties in the UK, is holding another meeting on October 12, at 3:30PM, Room R in Portcullis House.Room R in Portcullis House. We need British-based supporters of the campaign to ask their MPs to attend. Below is a template email you can send to your local MP with the details of the APPG and requesting their attendance. It is vital that we spread awareness of the reality of life in West Papua through Westminster and pressure the politicians to take action.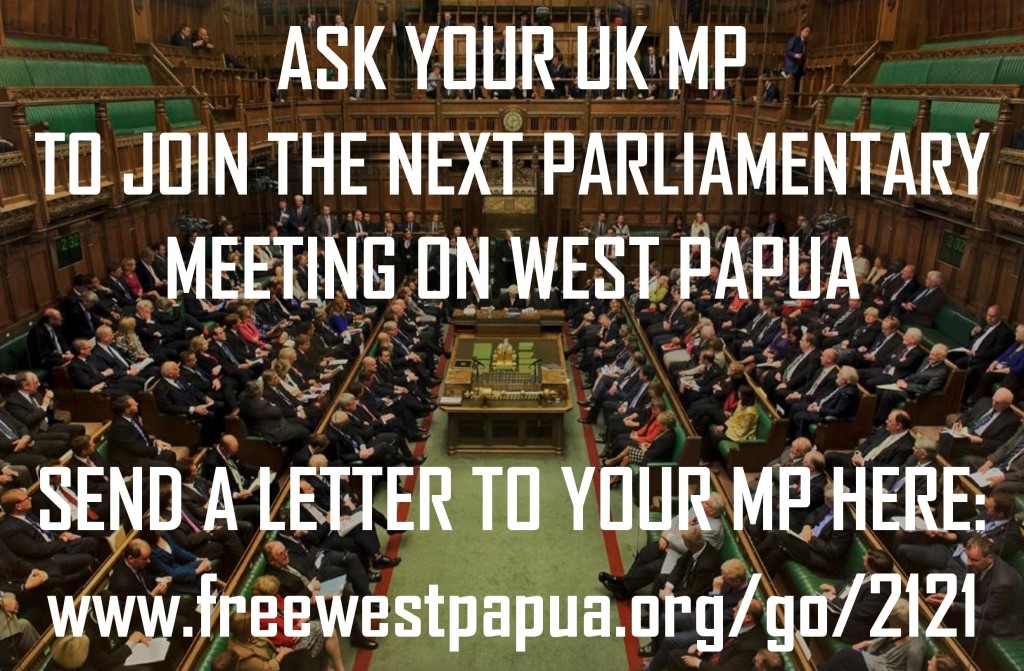 YOU CAN CONTACT YOUR LOCAL MP HERE
If you receive a confirmation that your MP is going to attend, please let the APPG know at office@ipwp.com, so they can be sent the agenda and documentation for the meeting.
The APPG on West Papua was restarted in 2015 by Andrew Smith MP, the chair, and has held two meetings since then. It discusses issues of importance in West Papua and puts forward actions for parliamentarians to take to assist with the situation. This meeting will be discussing the ULMWP's bid for full membership of the Melanesian Spearhead Group, the Westminster Declaration, mass arrests that have occurred inside Papua recently and feedback on the historic May 3 Westminster meeting. It will be attended by politicians, NGOs and academics, including the Politics of Papua Project at the University of Warwick.
TEMPLATE LETTER TO SEND TO YOUR MP 
[YOUR ADDRESS LINE 1] [ADDRESS LINE 2] [TOWN/CITY] [COUNTY] [POSTCODE] September, 2016
Dear [MP'S FULL NAME FOLLOWED BY 'MP', E.G. JOHN SMITH MP]
APPG on West Papua
As your local constituent, I am writing to you to express my concern about the political situation in West Papua and the deeply disturbing human rights abuses that are being carried out under the Indonesian occupation there.
As my elected representative in the Houses of Parliament, I would like to draw your attention to a parliamentary meeting on West Papua on Wednesday 12 October (from 3.30PM, Room R in Portcullis House) and urge you to attend. There is no requirement to be a member of the APPG or to sign up in the future.
The meeting will act as a briefing on the political situation in West Papua, including recent reports of mass arrests, and the diplomatic battle in the Pacific over West Papua's membership of the Melanesian Spearhead Group. It will also serve as an update on the progress of the International Parliamentarians for West Papua (IPWP) and an opportunity to sign up to the All-Party Parliamentary Group, chaired by the Rt. Hon. Andrew Smith MP.
As a current member of the Human Rights Council, the UK cannot turn a blind eye to the clear and well documented violations that continue to be carried out by Indonesia on a daily basis. The Government needs to fulfil its obligations by sending a clear message that this is unacceptable.
I am trusting you to represent my concerns on this matter and to inform yourself about the political situation.
I look forward to receiving your reply.
Yours sincerely,
[YOUR NAME]