The Free West Papua Campaign in 2017.
January 4, 2018
As we say goodbye to a busy 2017 we would like to thank you all for your incredible support, and update you on the great progress you have helped us  achieve.
Firstly, a huge congratulations to Benny Wenda, newly elected Chair of the United Liberation Movement for West Papua (ULMWP). Elections took place on December 1st in Vanuatu at the ULMWP's first major summit since forming three years ago. We would like to take this opportunity to offer our best wishes to Benny and the West Papuan leaders to continue to lead the West Papuan people to freedom.
For more information on the ULMWP please go to www.ulmwp.org.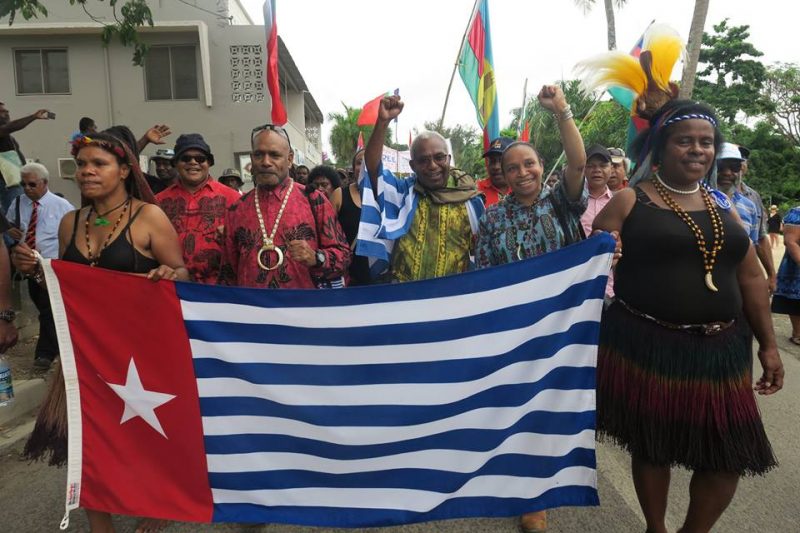 From Benny Wenda's New Year's message "2017 has been an incredibly important and eventful year for West Papua and our struggle for freedom. We have seen the unity of our struggle, both inside and outside West Papua driving forward incredible momentum for our cause. Not only have we seen more and more countries standing up for our right to self-determination at the United Nations, but we have seen a wave of growing awareness and solidarity at all levels, from across the world."
December 1st is a historically significant day for the people of West Papua, commemorating the first raising of the Morning Star flag on independence day in 1961 (just 19 days before Indonesia invaded). Each year, people continue to raise the flag in solidarity and in the hope that the Morning Star flag will be raised over a Free West Papua once again. This year has seen the biggest global flag raising ever, and hundreds of photos of flags from every corner of the world are still arriving in our office.
Thank YOU for supporting West Papua's right for freedom.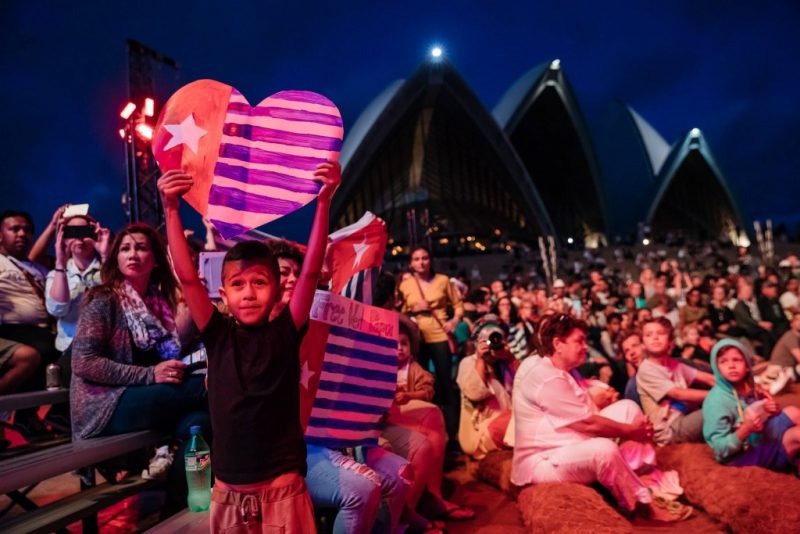 The continued work of the Pacific Coalition for West Papua, the eight nations of Pacific islands that lead the case for West Papua's self-determination in the political hallways and the UN, has seen diplomatic progress. A significant moment this year was when St Vincent and the Grenadines Deputy PM Straker addressed West Papua at the United Nations General Assembly; the first Caribbean nation to do so in over 50 years.
As you know 2017 also saw THE most courageous act of grassroots action from the people of West Papua:
A staggering 1.8 million West Papuans risked arrest to add their names to the West Papuan People's Petition. Banned by Indonesia, this historic petition calls on the UN to appoint a special representative to investigate human rights abuses and put West Papua back on the decolonisation committee agenda, and to ensure the West Papuan people's right to self determination is respected via an internationally supervised vote. All 1.8 million names were signed with pen and paper, or with a thumbprint, under threats of arrest and torture in one of the most courageous acts direct from the people of West Papua. Please read, and keep spreading this truly remarkable story.
For Benny Wenda's full interview about the petition, please read here.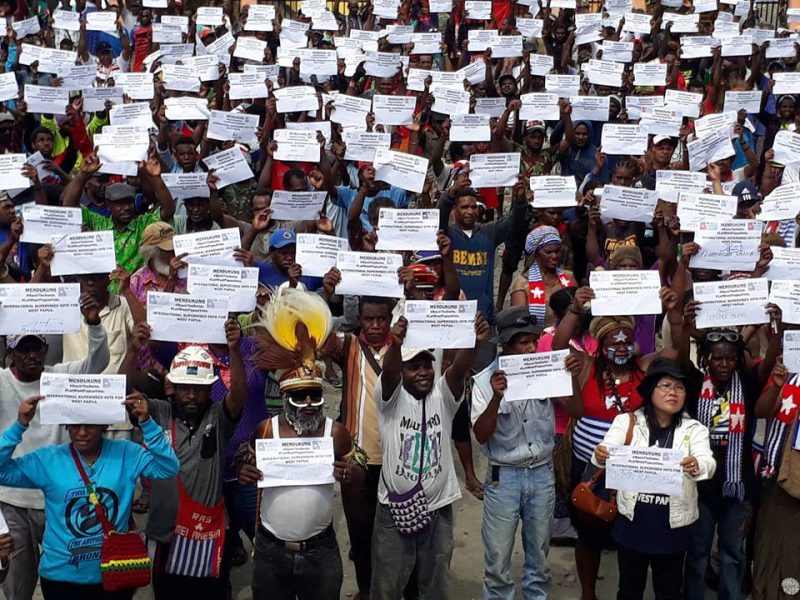 WHAT YOU HAVE HELPED THE FREE WEST PAPUA CAMPAIGN ACHIEVE?
Thanks to your donation the Free West Papua Campaign ran a successful international campaign to help bring awareness of this historical and game changing petition. As well as the 1.8 million people who signed from inside West Papua, nearly 200,000 people from over 185 countries signed in solidarity. This petition was then swum 69 km across Lake Geneva by the Swim for West Papua team in a great publicity campaign which helped bring attention to West Papua's appeal to the UN.
We hope you will continue to support our work as the petition will remain the focus of our campaign work for 2018.
Other achievements this year include:
* The number of International Parliamentarians for West Papua has grown, with successful events held in Westminster and New Zealand parliaments, and another 30 MPs from New Zealand, the UK and Australia have signed up to support West Papua. Please go to https://www.ipwp.org/news/ for more info. Sending letters to your local MP to join is one of the most effective actions international supporters can do.
* Our campaign on Press Freedom in West Papua trended at number 1 on Twitter on May 3rd, and again international eyes were on the irony of the World Press Freedom Day being held in Jakarta. We will be running another campaign on this year's World Press Freedom Day on May 3rd, so please watch this space.
* This year's Rockin for West Papua in October saw 150 bands play in 27 concerts across five countries, raising awareness, support and funds for West Papua and proving once again that #musicisaweapon. The next concert will be in London on March 4th, and the biggest event yet is planned for October 2018. Follow Rockin for West Papua on Facebook.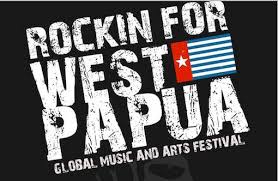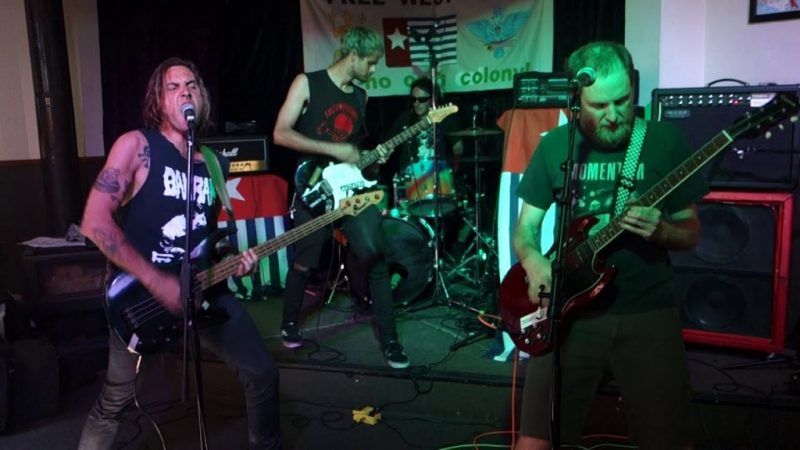 International solidarity and awareness on West Papua's legal right for self-determination? is continuing to grow, so please continue to stand by our side in 2018.
Despite an incredible year of progress, sadly human rights abuses continue to escalate in West Papua.
The latest International Coalition for Papua report, released in July 2017, indicates that 2015-2016 was characterised by a significant aggravation of the human rights situation in West Papua compared to previous years. Almost all of the arrests occurred during peaceful protest in support of the United Liberation Movement for West Papua (ULMWP).
30 political prisoners who support a Free West Papua remain imprisoned at the hands of the Indonesians. During 2016-2017 there were reports of up to 8,000 arrests, including many children. On the 21st December Indonesian military and police shot 5 West Papuan people, three of which were children. These are regular occurrences, and West Papua is still facing a media blackout, meaning these stories often miss international attention. The best way you can help is by continuing to share this news via our facebook and twitter pages, and help the world hear about it.
Yanto Awerkion still remains in prison for collecting signatures, and is facing 15 years in prison for treason. https://www.freewestpapua.org/2017/12/15/yanto-awerkion-remains-behind-bars-for-supporting-the-west-papuan-peoples-petition/
We re running a dedictaed campaign to help Free Yanto in 2018. Please follow the campaign and help here.
It's thanks to the actions of people around the world that West Papua's campaign for self-determination has gained so much momentum and progress over the years, and is now working at government level and being represented at the United Nations. As global awareness is growing, so does the hope that finally West Papua's legal right to self-determination will be recognised by many more governments, groups and people around the world who will join us on West Papua's road to freedom.
Next year we will continue to speak about West Papua, we will continue to support the ULMWP in lobbying the UN to send a special representative to West Papua and return West Papua to the decolonisation list; we will write letters to parliamentarians and governments globally; we will lobby for press freedom and the freedom of political prisoners, and we will invite artists and activists around the world to join the growing family calling for freedom for our brothers and sisters in West Papua.
We really truly could not have achieved so much without you. Please continue to keep West Papua in your hearts as we work together to help Free West Papua.
We look forward to working beside you and standing with the people of West Papua in 2018.
To you, your friends and family, have a safe and happy New Year, from us all at the Free West Papua Campaign.
With greatest respect,
The Free West Papua Campaign