Interview with Swim for West Papua captain Joel Evans
August 25, 2017
Sign & Share the Swim for West Papua petition here
On August 29th, the Global Petition for West Papua which has already reached tens of thousands of signatures across West Papua and around the world, will be handed into the United Nations in Geneva. Prior to this, it will be taken by Swim for West Papua, a group of swimmers, and literally swum across all 69km of Lake Geneva and into the hands of the UN!
We caught up with Swim for West Papua team leader Joel Evans from the UK to ask about how he got involved with this wonderful initiative and his thoughts and feelings around the upcoming swim.
Free West Papua Campaign: So, Joel how did you hear about West Papua in the first place?
Joel Evans: I first heard of what was going on in West Papua back in 2012 when I was working in Fiji on a marine conservation project. I've always wanted to keep up with that part of the world and it was then that my friend Joey Tau told me about the crisis going on in West Papua. I've since been back in the region a number of times and have been following the issue since. Each visit has reinforced and affirmed my desire to do something. I've always had a nagging question in the back of my mind where this issue was concerned, how can I contribute in a positive way and help raise awareness? I felt angered when I learnt about the injustices and discrimination faced by the West Papuan people.
How did you feel after learning about the secret genocide and illegal military occupation?
Joel Evans: The West Papuan issue is one that calls our common humanity into question on a deep level. My initial feeling was anger and frustration at the senseless injustice of the crisis but I think throughout the course of this campaign and perhaps even before this all kicked off I felt a huge sense of compassion. The West Papuan people have been the victims of 50 years of indiscriminate, unreported killing. For a large part, we have been kept in the dark about their suffering, while our governments have been complicit in their suffering. Whether that's through arms deals, trade and treaties (such as the Lombok Treaty) with Indonesia or anything, else our governments have a lot to answer for.
Reading academic reports revealed the extent of our greed and inhumanity, endless military operations, organised mass murder of West Papua's tribes, all for the profit of a couple of multinational corporations. How could anyone not feel compassion?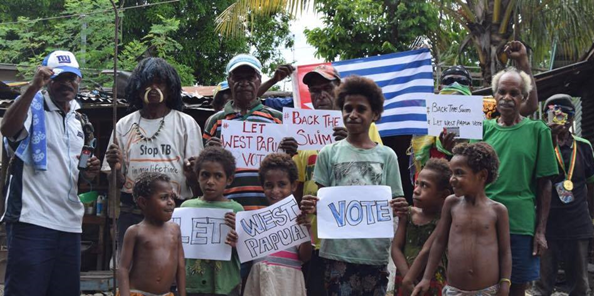 In time, I also began to feel a frustrated compassion towards the individuals but also those individuals who committed these acts. This swim is for the West Papuans, we are swimming to raise awareness of something awful, but it's also a call, a call to recognise our common shared humanity. As Desmond Tutu so wonderfully pointed out in his endorsement of the swim "we are all part of one BIG family", and we can't get around or escape that. We are better than this. You're better than your worst actions and we should live to expect the best of each other.
Something that has informed my thinking on this has been Desmond Tutu's book Made for Goodness. The book is encouraging and yet profoundly confrontational. In our anger, we often risk becoming and acting as inhumanly as those who have angered us. While revenge may satisfy us for a while, in the long run the cycle of violence just repeats itself.
There is a third way, a better way, a nonviolent, peaceful way, it's more effective and it requires the best of us.
It's on us to help Indonesia reclaim their humanity and come back to the table, we must not lose ours in our effort to bring them back and help them recognise theirs. As frustrating as this was to realise, it is true.
I had two thoughts at the very beginning of the project, two desired outcomes, I said to myself, "if one more person finds out about West Papua because I swim then it's worth it." The second thought was "if we get to the UN and there was cursing and raised eyebrows from the Indonesian delegation then, my job was done. I will expose some of the worst acts by giving my best" that is to say, by showing what we are all made for, what Desmond Tutu would call goodness.
So why swimming? How did you get this incredible idea to swim 69km across Lake Geneva?
Joel Evans: I had this crazy idea one day standing at a photocopier. I was doing a temp job at the time and it was brain numbingly boring job. I suddenly thought, "I can swim. I know other people who can swim". The primary reason I thought of Lake Geneva was because Tim, an old school friend  (one of the team members) had setup the Lake Geneva Swimming Association (LGSA). "What if we swim up Lake Geneva and deliver a petition to the United Nations to raise support for the people of West Papua". That was the original idea, it didn't go beyond that, there was a lot I didn't know.
At that time, the petition was just a bit of paper that said 'The Petition' with a bunch of names beneath it. I didn't know how significant the petition would be to so many, that it would become a symbol of hope, the centre point of an international campaign and signing would be considered an act of defiance in the face of oppressors. These thoughts were the subject of some far off distant dream. I approached a few people (such as Tim) with the idea and they were game, we then reached out to the Free West Papua Campaign who loved the idea and agreed to run with it. The rest is history.
How's the training going? Any particular interesting moments?
Joel Evans: I've always enjoyed going to the gym and keeping in shape so the land based training has great. It's great to have a bigger purpose and reason to go and train for.
Open water swimming has been a new challenge, a number of team members are very experienced in this area which is a big help to those of us who haven't done any before.
We have been training together for the past year and recently we did a team swim in Dover, in which some members qualified. It was the first cold water swim all together and it was pretty hard going. But the team time together was invaluable. One of our team, Tom (with a beard), has had a few close encounters with curious fish while training in a lake in Shropshire. Carey rediscovered her phobia of pondweed in Llyn Gwynant and we've all bonded over hot drinks and warm clothes in the middle of the summer, on a beach in Dover.
So far, the hardest part for me has been the qualifying swimming, 2 x 2 hour swims on the same day in open water below 17 degrees. I completed mine in Snowdonia National Park in Llyn Gwynant, the water temperature was sub 15 degrees (although I didn't know that at the time).  I've been reliably informed that I was blue from the chest upwards when I got out after the first two hours. The getting back in is the hardest part mentally, you know it's going to be cold. Exposure to cold temperatures for long periods of time is essential for our training, the colder the better. We are expecting the temperature in Geneva to be between 18 – 25 degrees, we've deliberately been swimming in colder water so it's easier during the real thing.
I think the hardest part of this swim is not going to be the physical part, we can all swim, we've proved that to ourselves and one another, the tough bit is going to be the mental challenge we face.
I think there's a supreme irony to this swim, in that, when I was a kid I was terrified of water. I remember attending swimming lessons. While others threw themselves into the pool on command, it took 20 minutes to persuade me that jumping in was a good idea. If you'd told me then that one day I'd be swimming up Lake Geneva I wouldn't have believed you.
How does it feel for you and the team to be just a few days away from the big swim?
Joel Evans: I think I'd be lying if I said any of the team weren't feeling apprehensive. We've all been challenged physically and mentally, it's good to be together. It's an encouraging thought to know that we have the support of thousands of people around the world. Perhaps more significantly, that people are find out about what's going on in West Papua, after we're swimming to highlight their plight and their desire to be free!
And how does it feel to know that thousands of people in West Papua are signing the petition and supporting the swim?
Joel Evans: It's a dream come true. I told myself it was worth doing if one more person found out about what was going on in West Papua. I think I speak for the whole team and the probably the Free West Papua Campaign when I say we're in awe that it's taken off the way it has. Personally, I'm glad that people have rallied around the event and petition. As a team and individuals, we are humbled and honoured that people all over West Papua are risking their person safety to openly support this effort to raise awareness. The support from people such as Desmond Tutu, Hugh Lunn and many others has been mind boggling. I'd also like to humbly ask that you keep talking to everyone about the petition and upcoming swim, without you, this campaign wouldn't be where it is today.
Do you have a message to people around the world regarding the swim and the petition?

Joel Evans: Yes, you're invited to be part of something bigger, something that requires the best of you. We are made for goodness, it's in our DNA. If we weren't made for goodness, bad news wouldn't be the norm on the evening news. I'd like to ask you that you live into that potential and stand with the people of West Papua. Sign the petition so the West Papua people can determine their own destiny.
And do you have a message for the people of West Papua?

Joel Evans:
To the people of West Papua, I say, the world is waking up and hearing your cry for freedom. I hope that by swimming for West Papua even more people wake up and find out about your desire for self-determination and justice. You are strong and courageous, you embody all that it is to be human, you have the same hopes and dreams as many other people. So long as you want freedom, we will stand by you. Join and support you on your walk to freedom. We might be only six swimmers but I am confident these are 69km we can journey together. God bless you, keep and protect you.
Wa wa wa wa
Thank you so much Joel, you are a true inspiration to people everywhere and are making history for West Papua. Keep up the amazing work! We'll continue to update people on the progress of the swim and the petition.
Remember, you can follow Joel and the Swim for West Papua team on their incredible journey via their website www.swimforwestpapua.com
#BackTheSwim #LetWestPapuaVote