Help us to make "There is NO #PressFreedom in #WestPapua" go viral!
April 21, 2017
On May 3rd 2017 Indonesia are hosting World Press Freedom Day, in Jakarta             There is no #Pressfreedom in #WestPapua
Click on this link to sign up to our thunderclap. It  takes only 2 clicks, and will help West Papua go viral by sending a tweet or post automatically from your account on May 3rd demanding Indonesia allow #Pressfreedom into #WestPapua. It's really easy.
https://www.thunderclap.it/projects/56067-how-is-wpfd2017-in-indonesia
Only last month Indonesia blacklisted 3 journalists trying to get in to West Papua. There are currently numerous websites being shut down for speaking out about West Papua, and citizen journalists are repeatedly intimidated, arrested and tortured for reporting on the regime. For more information on media access in Indonesia go here:
We are asking all friends to help highlight the hypocrisy of Indonesia hosting this event, and to use it as an opportunity to create global attention for West Papua.
#Pressfreedom #WestPapua #WPFD2017 #LetThemIn #FreeWestPapua
On May 1st last year 1,700+ people, including children, were arrested just for peacefully demonstrating against the Indonesian occupation of West Papua, and the date Indonesia first occupied it on May 1st, 1963. The biggest mass arrest in Indonesia since Suharto and the world heard so very little due to the media blackout in West Papua.
Please join our Global Days of Action to help shine a light on West Papua between May 1st & May 3rd
What you can do;
The Free West Papua Campaign will be online sharing news from inside West Papua and from #WPFD2017, with important coverage of any demonstrations taking place. It is paramount we are watching so that our brothers and sisters in West Papua remain safe during this time. We will also share important articles and information to help everyone understand the current, and brutal, situation that West Papuans are facing daily, and the simple things you can do to help.
Join one of our Global Days of Action near you, or organise your own. LONDON, SYDNEY, More info here. 
Join our thunderclap here for May 3rd World Press Freedom Day. There is NO #PressFreedom in #WestPapua! Help us to make this go viral.
#Pressfreedom #WestPapua #LetThemIn #LetWestPapuaVote #FreeWestPapua
Please also retweet & share news from the following;
@PapuaituKita & Facebook and  tabloidjubi.com/eng  will be reporting things direct from Jakarta.
New I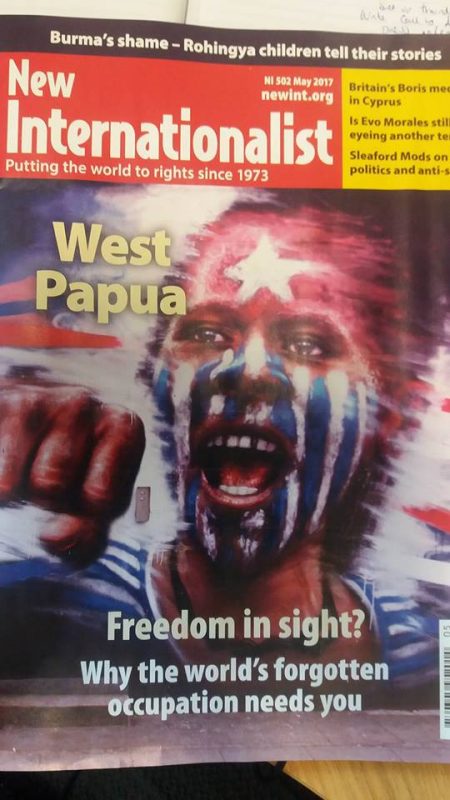 nternationalist Magazine @newint for independent articles about West Papua throughout May, in line with their May issue all about West Papua. "The most important piece of recent journalism to come out on the subject, written by the people on the ground".
This is so important, and we need help collecting names to help West Papua get to the UN in August.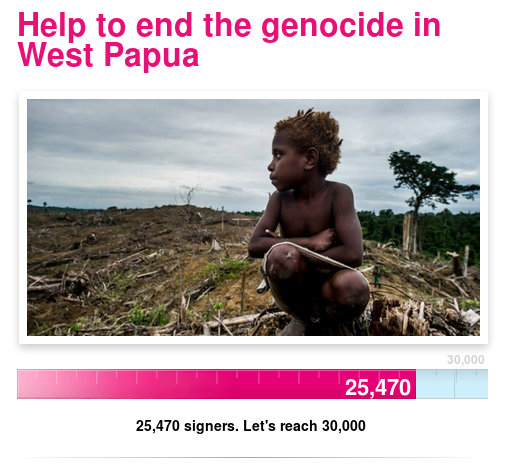 Thank you for standing with West Papua. We believe that with enough international support, we can put an end to this genocide, and help the people of West Papua on their road to freedom.
Please go to www.freewestpapua.org for more information, and sign up to our newsletter.
Thank you