Join our Christmas Donor Appeal
December 14, 2016
What a year we have had! The Free West Papua Campaign has made great progress in 2016, raising the issue of self-determination for West Papua worldwide. Plans to hold an internationally supervised vote in West Papua are being discussed and recognised by state leaders. Due to continued grassroots campaigning  around the world, West Papua's situation is beginning to receive the attention it so desperately needs. Groups and individuals from more than 30 countries joined us for the global flag raising even on December 1st, providing further evidence that our efforts are really making a difference.
So many of you have offered your time and support. Thanks to you, our brothers and sisters in West Papua have belief in their future.
Christmas Donor Appeal
To continue with our crucial work in 2017 we need funds.
This December we are running an appeal to find 200 people who can make a monthly donation to support our important work.
So far we are really happy to report that 15 people have signed up to monthly direct debits so far, raising us over £1,600 per year. This is a huge amount for us and we're so grateful for the support, but we are still a way off our target of 200 monthly donors.
Regular donations help us to predict our income so we can plan for the future.
Are YOU able to join us & make a small monthly donation to support the Free West Papua Campaign & help us reach our target?
Read the appeal and set up a monthly donation here:
https://www.freewestpapua.org/actions/donate-2/
Any amount you can give would be really appreciated. If you can, please also share our appeal with friends and family via email and social media.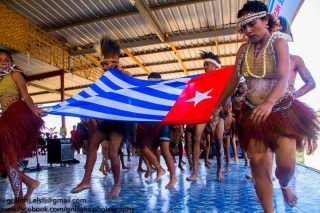 Here's a quick overview of what's coming up with the campaign and what your funds will help us achieve:
Continuing to lobby international governments worldwide to bring West Papua to the UN, and to build on our grass roots support globally.
Continuing to work with our International Parliamentarians for West Papua, and International Lawyers for West Papua groups. We hope to hold a conference in 2017.
In January we are launching a petition to support the internationally supervised vote for West Papua. The petition will be run globally, and then swum 69 kms across Lake Geneva in August 2017 in to the hands of the UN headquarters. We hope it will be our biggest campaign yet.#LetWestPapuaVote #BacktheSwim
We want to grow our Rockin for West Papua global peace concert in 2017, and build popular support thorugh music festicals and famous bands. #Musicisaweapon #RizeoftheMorningStar #LetWestPapuaVote
If you are interested in getting involved, have any contacts and ideas, other fundraising opportunities or can help in anyway, please do get in touch.
Thank you again for all of your support,
The Free West Papua Campaign